---
Blueprint Your Building's Energy Consumption at the Circuit Level

A powerful new tool for the Energy Engineer

Paul W. Ogle Sr.,

VP Product Development & Marketing

Activelogix LLC
The capability now exists to easily acquire, measure, visualize and aggregate the electric energy consumption for an entire building or an enterprise right down to the circuit level. In 2012, Schneider Electric's Lighting Control division partnered with Activelogix to design and build a product to enhance their Measurement and Verification Panels (MVP) and also be easily retrofitted into existing electric panels (by Schneider Electric and others). This product is designed to greatly enhance measurement and analysis of electric loads down to the circuit level.
Marketed by Schneider Electric under the trade name "Energy Insight", this new product provides circuit level details on load, voltage, power factor, current and more and can handle any number of electric panels of different manufacture and multiple configurations, including subpanels.
For retrofits, the product consists of a prefabricated CT strip that can be quickly mounted along each side of a panel bus to measure the individual circuit feeds. The strips are mated to a connector circuit board that handles the aggregation of the individual circuit data streams. The data management system is designed around a Niagara framework which handles the data flow to the local server.

For new installations, Schneider Electric's MVP panels can come pre-configured for Energy Insight, allowing fast installation with no additional effort beyond that of a standard panel in most cases.
For visualization, the Energy Insight system boasts a new web based user interface using elements from the Periscope™ Energy Dashboard framework from Activelogix. An entirely new Energy Insight / Periscope MVP "Viewlet" was developed to provide extensive information for each panel, including the panel's phase data as well as individual circuit data. In addition to capturing all the dynamic activity at a circuit level, dual-level color-coded user configurable load alarms are provided for each circuit, indicating both a momentary load excursion as well as a sustained excessive load alarm. These alarms are both visible through the viewlet as well as captured in reports for later diagnosis.

An example of the MVP Viewlet with highlighted alarms is shown below: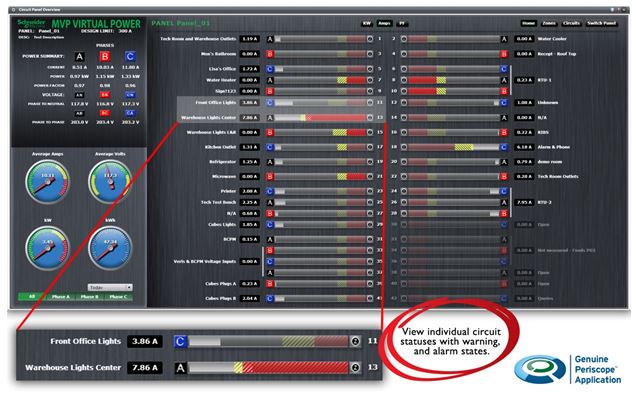 Zone Analysis

In addition to its extensive visualization and documentation capabilities, Energy Insight also enables "Zone" creation. This powerful feature allows the user to configure individual circuits from one or more panels into "Zones". For example, the building engineer can now set up zones for a myriad of virtual loads. Examples could include: all lighting in the building, plug loads on 4th floor, HVAC loads by floor, loads by department, etc. Circuits from one or more panels can belong to multiple zones, enabling the ultimate in configuration and granularity. Zone loads can be trended and visualized, using the inherent Periscope functionality with up to twenty eight separate viewlet formats. A powerful database historian can document trends and histories deemed important.
 
Integration Opportunities
Due to the incorporation of many native Periscope features in the Energy Insight package, existing North America Periscope clients can easily and cost effectively add Energy Insight capability to their Periscope installations, and likewise, Energy Insight installations can cost effectively add the additional capabilities of Periscope to their energy visualization strategies.
Proven Results
Energy Insight was initially installed in early 2013 at several locations, including the City of Raleigh (NC), where over 20 panels in their metropolitan complex were retrofitted with Energy Insight. This installation was well received and has already led to a number of interesting "Energy Insights" for the city.
---
About the Author
Paul W. Ogle, Sr. is VP of Product Development and Marketing for Activelogix. A thirty-plus year industry veteran, Mr. Ogle has been a key member of the Activelogix management team for a number of years, overseeing the design and development of many strategic products for solar, wind and EVSE applications for Activelogix, including the hugely successful Periscope Energy Dashboard program, now in its fifth year with thousands of locations under license and distribution in eight countries and nine languages worldwide. Mr. Ogle currently resides in Cary, NC.

About Schneider Electric
Schneider Electric is a global specialist in energy management with operations in more than 100 countries, offering integrated solutions across multiple market segments. Schneider Electric focuses on making energy safe, reliable, efficient, productive and green. The company's 140,000 employees achieved sales of 30.8 billion US dollars (24 billion Euros) in 2012 through an active commitment to help individuals and organizations make the most of their energy.
Schneider Electric's full line of lighting control products play a major part of an energy management solution, as lighting remains the largest user of energy in commercial buildings. Schneider Electric's Lighting Control products offer technology that reduces energy use with networked dimming and lighting controls, occupancy sensors, daylighting controls. emergency lighting controls and panelboard measurement and verification products.
Additional information on Energy Insight is available here: http://static.schneider-electric.us/docs/Power%20Management/Lighting%20Control/Measurement%20and%20Verification%20Panelboards/1210HO1301.pdf

About Activelogix
Activelogix, LLC is a leading provider of enterprise automation and Building Intelligence software. We provide automation infrastructure design and integration of smart devices to enable the remote management and optimization of intelligent, energy-efficient, and secure facilities. Activelogix is also the developer of Periscope™, an industry leading Building Intelligence Dashboard.
Founded in 2002 and headquartered in Charlotte, NC, Activelogix is quickly being recognized as an innovative software developer and value-added distributor of the Niagara Framework™. We have extensive experience in the design and support of Niagara™ solutions and we are a certified Niagara AX Developer and Vykon Security Partner (VSP).
Our software and hardware solutions are distributed to end users through a growing channel of systems integrators and original equipment manufacturers. Typical customer applications include providing real time decision support information to the enterprise from sustainable energy production systems, meters, building automation, and maintenance management systems.
For more information, visit us at www.activelogix.com

---


[Click Banner To Learn More]
[Home Page] [The Automator] [About] [Subscribe ] [Contact Us]