October's theme "Build Bridges not Fences"

Never before have we had to collaborate with everything to provide the correct connectivity paths in our Automatically Smart buildings. Giant pieces of our industry are being captured online in the cloud and we have neither the time nor the resources to recreate them. We simply need to find the best way to build bridges and connect and collaborate with these resources. A few examples of this are: energy data for buildings generated automatically by smart meters; demand response requests generated by utilities; Google maps street view including floor plans for large buildings; etc. all lead us to look to creating the best Mashups of available resources. Wiki defines A Mashup, in web development, is a web page, or web application, that uses content from more than one source to create a single new service displayed in a single graphical interface. On our journey to Automatically Smart these mashups will become more important to allow us the correct connectivity collaboration for the success of our project. Evolving open source, community-based initiatives such as Haystack when overlaid on existing standards like Niagara, BACnet, EnOcean, KNX allow us to mashup real time data into new identities. We all need a head shake and a big look around to envision the scope of our new Connectivity Collaboration Camp. Also remember that connection to resources that are constantly growing and improving allows Automatically Smart to be achieved. Your mashup has information today that it did not have yesterday and will be even smarter tomorrow and you need do nothing. Focus on building bridges not our fences of the past.
Dr. Rick Huijbregts VP, Business and Industry Transformation General Manager, Smart + Connected Communities blog writes:

Advanced standardization of communication protocols and the consequent rapid global adoption of IP and the Internet is moving from the information age into the networking age. The Internet provides the technical and human network to connect people with processes with data and things. As the Internet of Everything (IoE) connects the unconnected, it is expected that more than 50 billion smart objects will communicate freely over the Internet by 2020 and early indicators show us that this is a conservative estimate.

As an industry we need to change rapidly from building proprietary fences around our projects to providing connection bridges to the Internet of Everything (IoE) for our clients if we are ever to survive the rapid evolution which is now at hand.
Need a Map to those Bridges? Toby has some ideas on how to do that; If systems can understand what they discover, they can integrate themselves.

Very pleased to have an interview in this issue with an old friend forever Michael Newman and his new book about the industry's longest bridge that he helped build. Mike is a true pioneer, tearing down fences and building bridges in our industry. This has provided us a great base to build our new bridges to the Internet of Everything (IoE).
As always this new issue is full of great articles, columns, reviews, new products, interviews and of course the steady stream of news depicting how we are building bridges and tearing down fences on our rapid evolutional journey.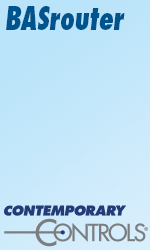 Welcome our newest sponsors:
Project Haystack. Project Haystack is an open source, community-based initiative that develops data "tagging" conventions to facilitate the exchange of smart device data.
alpscontrols.com Buy HVAC parts online and get smart, personalized support.

Tell all our sponsors you saw their ads on the AutomatedBuildings.com web site and thank them for supporting your free access to evolving Automated Building Industry information. Click on their ads and view their valuable products and services. Please review all Our Sponsors.

I am assembling a self-maintained global network of "Who is Who in building automation". Presently my network includes over 5375 please join us.

Please join our Group on Linkedin with over 2230 others and interact with our magazine and online resource in real time while sharing your thoughts with our editors and other readers around the world.

The news just keeps flowing thru our web site and RSS feeds daily, and of course the only way to truly find what you are looking for in the vast quantity of information on our site is with our site search engine http://www.automatedbuildings.com/search/sitesearch.htm

As always lots of new products, plus be sure to check our event calendar to see the number of events we have in our future.


---


[Click Banner To Learn More]
[Home Page] [The Automator] [About] [Subscribe ] [Contact Us]