---
Building Automation Dilemmas

Integrate or Replace? – The Mystery Revealed


Zach Denning
Engineering Sales
Western Allied Mechanical

Traditionally, when buildings have transitioned to new contractors so have their automation systems. In the past, contractors would only have access to one line of controls that "talk" their own language and have a specific tool for sequence programming; Ultimately following the proprietary business model. With the introduction of Tridium came the flexibility to integrate several platforms, all talking a different language, into one front-end or GUI (Graphical User Interface) that could be maintained by several different contractors. Tridium has unlocked the world of Building Automation allowing contractors the choice to integrate an existing control system or replace different components depending on the project budget. So when should you integrate and when should you replace your system? Is a twenty year old system too old to keep around?

BACnet, LonWorks, and Modbus have become staple communication protocols in building automation allowing differently manufactured controllers to "talk" to each other on the same bus. Several key areas throughout the United States have focused primarily on the BACnet communications protocol as a construction standard; forcing contractors to install less proprietary control systems and allowing end users greater flexibility for future expansion. So what is your communication bus? What if you don't have one of the big three listed communication protocols? Most older control systems (Pre-2000's) had a proprietary means of internally "talking" amongst devices. Because of this, Tridium developed software drivers to"speak" the same language as these older devices and take control without having to replace every controller on a site. Drivers are developed and sold not only by Tridium, but through several large Tridium distributors as well. Can your site be integrated?

If you find your site can be integrated through Tridium, which devices should you then replace? Many contractors believe you should leave as many devices as possible to maximize your original investment. But what if the devices you're replacing are already growing in scarcity? What if the configuration tool to reprogram those devices only works on Windows3.1? Customers should weigh the effects of leaving their current control system in place to the financial risk if devices were to fail. Below is a chart with the advantages and disadvantages of integrating to your existing devices. Which makes more sense for you?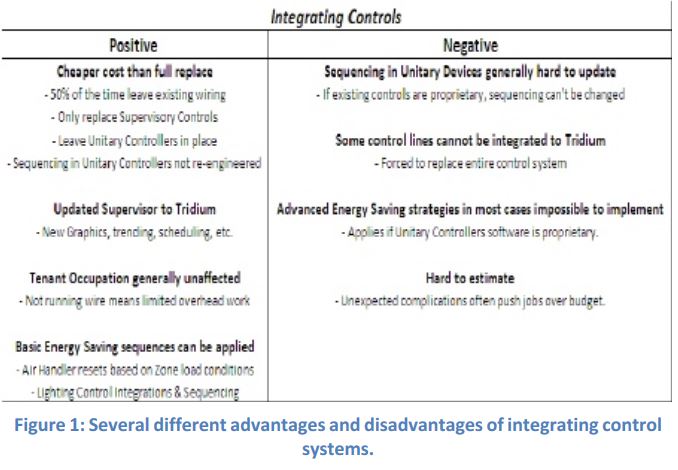 Often the integration path of DDC is chosen as a low impact solution to reduce project costs and tenant obstruction. A good example of choosing to fully integrate asystem would be a multi-story building housing several different tenants. If the building owner were to replace the entire control system, how would they shuffle tenants for local zone replacement? Typically when replacing a zone controller in an office space (i.e. VAV) the contractor has to run a new communication bus and replace the existing device; all of which requires removing ceiling tiles, ladder placements, janitorial services, etc. If you choose to work after hours, now you have to assume a 25-30% increase in total cost due to the higher installation expense. In this scenario, the ability to integrate to the existing devices typically means swapping out the current DDC router for a Tridium JACE and reprogramming graphics; all of which can be done unknowingly to your tenants without any tenant hindrance. So should you always integrate? What scenarios cost me money to leave my devices in place?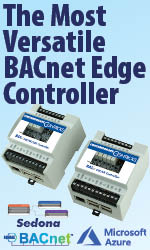 Larger, unoccupied DDC controlled environments remove much of the necessity to integrate their existing control systems. These spaces typically are more broadly controlled with constant volume units feeding several large zones. With larger equipment come less granular controls such as a VAV or heat pump, leading to less DDC devices on site. Fewer controllers in a system lessen the financial impact of replacing versus integrating the controls; especially considering the lack of impact to customer satisfaction in the controlled spaces. To further the concept, how hard is it to obtain replacements to your existing controls? If you're maintaining critical spaces what's the lead time to obtain a replacement device? By correctly associating your facility to your control needs, you can financially plan your next DDC upgrade.

End users are often reliant upon contractors to determine the best course of action when upgrading their Automation Systems. Through concerted efforts, facility managers and owners should identify their current automation system to understand the financial impact of their contractor's decision. Should you be integrating your controls if you only have five or ten controllers in the field that are no longer supported by the manufacturer? What if you have a few hundred devices? Weighing your options can often save future, hidden costs associated with equipment failure and replacements.
---
About the Author

I currently maintain an engineering sales position at Western Allied Mechanical. Our business is consulting customers on energy consumption and reducing costs through a joint mechanical and automation venture. I'm an avid follower of the industry and am always open to new opportunities and approaches. You can reach me at zdenning@westernallied.com or my cell at 650-798-4154.



---

[Click Banner To Learn More]
[Home Page] [The Automator] [About] [Subscribe ] [Contact Us]