---
| | |
| --- | --- |
| Editorial Comments by Ken Sinclair | |

Demand Response Needs You, me, and the rest of the BAS industry to make our rolling stock and lighting loads the dynamic part of DR.











How many kW can you provide to your Demand Response Program?
From Wikipedia, In electricity grids, demand response (DR) refers to mechanisms to manage the demand from customers in response to supply conditions, for example, having electricity customers reduce their consumption at critical times or in response to market prices.
It is estimated that a 5% lowering of demand would result in a 50% price reduction during the peak hours of the California electricity crisis in 2000/2001.
Crises of all kinds forge unexpected alliances, and the current energy situation is no exception. Our September 2008 theme is about the DR opportunity that we must all become part of. As you read the issue please question how you can be part of this opportunity.
Anto starts the discussion with Is DR Hype? Or, is DR real and a potential short-term game changer for building automation? In the article DR-Expo Comes To Ontario Peter Kelly-Detwiler and Rob Reale, Constellation NewEnergy tell us; Demand response is gaining increased recognition as an innovative solution to help address our growing energy needs. At DR-Expo in Toronto, October 6-7. Anno Scholten, of Novus Edge will be leading a track called "DR Technology Planning" While Christina Inge from Spinwave's give us her spin on DR on College Campuses.
Jim Sinopoli provides his help with a 8-Step Strategy To Making Existing Buildings Smart
Last month's most read interview was Growing Interest & Participation in Demand Response indicating our readers interest. This month Ahmad Faruqui discusses how Dynamic Pricing minimizes the use of expensive peaking capacity which sits idle most of the time
In addition to all this DR talk we have lots of other great articles, interviews and reviews about how the industry is positioning it self to be a major player in the DR opportunity.
Plus four great September Columns The Green Gold Rush Andy McMillan, Programming Methods Steven R. Calabrese
It's all too cheap Toby Considine, Differentiating an Intelligent Building Paul Ehrlich & Ira Goldschmidt
As always lots of new products, plus be sure to check our event calendar to see the number of events we have in our future.
We have added a new Blog tab to our navigation menu which links to related industry blogs of interest. We created an Industry online Forum many years before blogging was conceived and have combined these.
Of course the news just keeps flowing thru our web site and RSS feeds daily, and of course the only way to truly find what you are looking for in the vast quantity of information on our site is with our site search engine http://www.automatedbuildings.com/search/sitesearch.htm
We have been working on improving our web site by reorganizing how we handle the great number of news release we receive daily. We now provide a

News Feed ( Which Needs a RSS Feed Reader ) and have provided a New Our RSS news feed rendered into HTML
Tell our sponsors you saw their ad on the AutomatedBuildings.com web site and thank them for supporting your free access to evolving Automated Building Industry information. Click on their ads and view their valuable products and services. Please review all Our Sponsors.

Our August theme "Convergence Communities" is the start of the change we seek. We are extremely pleased to bring the thoughts and opinions of the change agents that are working hard to create our new convergence communities.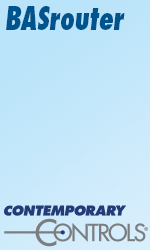 Anno Scholten's interview on Open Source for Open Systems provides a progress report from his community as does the interview from the next president of ASHRAE Gordon Holness, in his ASHRAE & BIM Update. Our new columnist Andy McMillan, President BACnet International provided the most reads last month with The BACnet Puzzle. Andy is back with a new column Open Systems Opens Doors "The Secret Sauce in the BACnet Recipe for Success" that talks to openness plus in addition we hear exciting things are happening in the NIST standards camp that may impact BACnet in DR and GridWise thinking. More on the BACnet topic with George Thomas, Contemporary Controls providing Object Modeling a Physical BACnet Device Part 1 Achieving BACnet® Compliance Part 2 plus Meet the "Father of BACnet®" Michael Newman in an interview with George Thomas.
Not to ignore the IT community we have Is IT God? Plus How Green IT is plus a a web-based, self-installing energy management system and securing a comprehensive solution that protects the important mission critical IT assets.
Jack McGowan provides insight to the DR community in his Crisis and Energy Opportunity plus lots more views on demand response, Wireless, Daylighting, and Participation.
Jim Sinopoli writes Touch screens are multi-faceted devices, the "Swiss army knives" of system user interfaces, while David Keidar Explories the Deep End of Video Surveillance Management
August Reviews Free Color HVAC System Graphics, ZigBee Today, Cisco - Smart Buildings Reduce Energy
August Columns Open Systems Opens Doors, Anatomy of a Typical BAS, Clouds and Rain, An Intelligently Green Building
Plus lots of new products
It is a great time to be in the news business for our industry.
Send comments and suggestions to news@automatedbuildings.com
---


[Click Banner To Learn More]
[Home Page] [The Automator] [About] [Subscribe ] [Contact Us]