---
Online Chapters of our Digital Transformations

The more than 60 chapters in that ongoing story of digital transformation below are peppered with HTML links to articles containing an amazing and diverse amount of information.

Ken Sinclair

Founder, Owner, Publisher AutomatedBuildings.com
Online Chapters of our Digital Transformations listed below

click here for graphic flyover 2D &3Ds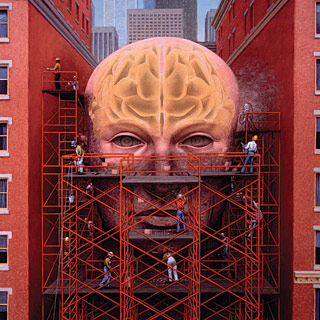 The ongoing online creation of our industries' book of transformation with now more than 60 chapters of our stories peppered with HTML links to articles containing an amazing and diverse amount of information

I see myself as a storyteller and hope the stories, the chapters, will be a catalyst for the IoT future we are all (eventually) going to live.
I believe that systems will be smarter, self-learning, edgy, innovative, and sophisticated, and to create, manage and re-invent those systems the industry needs to grow our most important resource, our younger people, by reaching out to them with messages about how vibrant, vital and rewarding working in this industry can be.
I am hopeful that these Chapters of our never ending book of transformation complete with URL links to industry thought will be of use to our industry and those trying to learn our craft and help them craft their new careers.
Month of Mondays I am very pleased to be part of the Monday Live discussion group who has been working all July to discover how to Delivery Smarter Buildings
Understanding and Procuring the Next New How do we quickly understand, procure and make the Next New part of today's smart buildings?
"Pushing Digital Dinosaurs" The theme is about the end of several eras and the beginning of new ones full of change
Digital Twin Morphing to Triplets + New Wireless Wave As we are all trying to get our minds around the concept of creating and using a digital twin our Contributing Editor, Nicolas gives birth to Triplets and suggests more variants are on the way
"Adaptation" What has 50 years in the industry taught me? The more I learn the less I know, but "Adaptation" is our survival superpower.
Choose to Challenge because from challenge comes change the IWD 2021 campaign theme: so let's all choose to challenge
"Be the Change" We can not just watch or even just react to change, we must be the change.
Your New Vocation Building Automation Whether you read "Building" as a verb or noun, investigate being part of our Building Automation Industry to satisfy your Curiosity, Passion, Innovation, Motivation, Location, and Edge-You-Cation.
Together Apart Now that we have been Covid-ized we have seen the value and necessity of working together apart.
Our Covid-ized Future Reality Will it be Real? or Augmented & Artificially Intelligent? or a Covid-ized Hybrid? Unabridged Version
Out of In...novation The true power of Innovations is not just the innovative idea but what we as a society and an industry can extract out of that innovation. Unabridged Version
Requesting Innovation Create your "Request for Proposal for Innovation" Innovation is a timeless ingredient, a necessary part of our successful transformation, needed now more than ever.
Edge Next Wave If you surf, sail, paddle, or simply just stand in the water, the shape, speed, height, and impact of the next wave can either swamp or propel you. I predict the next wave is coming with an artificial intelligent edge that if you are not ready for will knock you over.
Mr. Linkair Do not just talk about Transformation and how it links our past knowns to the uncertainties of our future unknowns. "Just Do It!"
Navigating Never Never Our Transformation is deep inside where we said we would never, never, go; we all need more information and discussion to successfully navigate our new never. "You are Never coming back once you transform"
Transformation We need to stop focusing on the digital part and refocus on the complete Transformation that is now occurring everywhere
"Tossing Transformation Torches" Covid-19 has forced some amazing never before had conversations zooming us all online, lighting some blazing Transformation Torches that are igniting the sky far beyond our industry. It is not clear as to who will catch and hold these torches to lead our future crusades, but no one can ignore that transformation's fire is in the air.
Online Education Anywhere, "Edge-You-Cation" Unabridged version COVID-19 has us all on edge, even pushing us over the edge, by challenging all conventional thought and wisdom by sending us home or to camp out anywhere in between with new definitions of our workspace which is transitioning from physical to virtual space and interactions. Ken Sinclair Founder, Owner, Publisher AutomatedBuildings.com
Combining Collaborating Communities Competencies "Changing Control Freaks to Scrum Masters" Unabridged version We need to Combine, Collaborate all our available Competencies to create powerful never before seen or conceived hybrid outcome driven services from our known and unknown Communities of Trust Ken Sinclair Founder, Owner, Publisher AutomatedBuildings.com
Building Communities of Trust Unabridged version Trust is the new currency, a now commodity we need to create to embrace our remote renaissance
Creating Outcome Based Platforms of Trust Unabridged version This new corporate mandate requires that all employees be insured that they are safe at home, at the office, and in the in between.

Embracing Enlightenment Unabridged version It is a process we are working through now to make not normal the new normal.
Reinvention Rebirth Rensaisance Unabridged version I see many positive sides to Not Normal. I myself am not normal as you have likely observed and I chose the word Renaissance in this title to delineate the significant positive break with the marking of a new era.
COVID-19 New Normal Not Normal Unabridged version The new normal will not be any normal we know. It is a complete global reboot of our existing way of life and organization, everything involved in purpose, process, work location, and local variations.

COVID 19 - Research, Reinvent, Recreate, Reboot - Repeat if Necessary
Unabridged version Your Reboot needs to include "Antifragility" the acknowledgment that returning to baseline is not good enough in a world full of disorder and constant change
"Global Reboot - Adopting Adaption" Being resilient and making people count while Adopting Adaption needs to be part of our "Global Reboot"
Adopting Adaption - Achieving Antifragility Unabridged version It is not the strongest of the species that survives, nor the most intelligent, it is the one that is most adaptable to change.
Talking Today's Tools We need to change our tools and how we use them, trading hard hammers for humanistic based softer more encompassing solutions.
Wake up to Wireless Ways Are our existing wired networked solutions at risk in the near future? Can wireless ways greatly enhance wired networks? The answer is "Yes".

Mike Newman, the father of BACnet, and honorary member of the BIG-EU has passed away. As prepared by Hans R. Kranz, March 7th, 2020
Our Education Emergency We are amidst an Education Emergency; there is so much to learn.
Our Industries' Amazing Women March is Women's History Month, and March 8th is International Women's Day. Take this time to recognize the women in our industry. Thank them for their hard work, and ask how you can help support them and get more women in our industry.
"What does Open mean 2 U?" The word "Open" means different things to different people and the word's meaning is defined by the audience and its interests.

Born Again Connected To catch sail in today's winds you need to Get Out of Your Head and imagine what being "Born Again Connected" might mean?
"Open" Your Mind, Get Out of Your Head On the journey to truly open systems, the first thing we have to open is our minds, unhinge our biases, simply said, "get out of your head."
Building Engagement Platforms The Building Engagement Platform combines previous platform generations on a flatten, secured IP horizontal architecture with the touchpoints, tools, ingestion of real-time data streams and workplace applications.
"Decarbonization" is Our Climate Emergency Embracing the importance of the shift in smart city thinking and action in spite of National and International floundering started us on a journey of deep discussion of what "Decarbonization" and our Climate Emergency means to our industry?
Building Wireless Inside Out Wireless connection to the Internet is among the top three most important factors for tenants who are searching for office space, along with cost and location.
G5-6 WiFi6 & CBRS This alphabet soup is destined to shape your future

Review Of CoRETECH 2019 "Recalibration" San Jose If you missed Coretech you missed a lot. Here is a quick review with a photo essay of what you missed.
Addressing our Education-Emergency @ AHRExpo 2020 We are proud of our 12 Free Education Sessions @ AHRExpo 2020
Sharing Data, Work-Space, Interaction, & Integration Do we really want to own our workspace or do we want to match our workspace to our daily location, purpose and resource base?

Building Data We understand that building data is our future but the myriad of diverse devices all speak different dialects of an undocumented language.
Building Backbones Backbones, our internet communication connections with everything are under metamorphic change. They are morphing before our eyes to glass and thin air, "Fiber" and "Wireless" from the traditional miles of copper wire.
Attraction & Retention of Zillennials & Millennials Adopting the new Hyper IP-Enabled generation into our workforce is a big part of the solution to solving our Education Emergency.
Building Climate Emergency - As his mentee, I agree with this article as a harbinger of some of the major changes we will see.

Education Emergency - The amount we need to learn and the speed at which we need to learn it is unprecedented.
Recalibrate for 2020 Vision We need to recalibrate while preparing for the next decade 2020, when we said the world would change, it will but we need to make it happen now.

Becoming the Internet of Think & Things It is now very clear the complexity and value of our industry will not disappear under IoT but that we are a valuable part of IT now in rapid transition to become a new subset of the IoT movement.
Job Crafting Our Industry Ambassadors Often words or events I am part of set the theme for my next chapter.
You Do Not Know What You Do Not Know - While Connecting Creative Communities on my Road Trip the keynote speaker at https://www.haystackconnect.org/ provided this inspiration and insight;
The Road Trip Connecting my many Communities of Practice.
Connecting Creative Communities The people and their communities have staying power; the technology does not.
Community of Practice (CoP) The importance of being part of and creating "Communities of Practice."
Holistic Cybersecurity Cybersecurity solutions cannot be a self-serving or an isolated approach they need to be part of a holistic solution.
Automated Intelligence with Autonomous Interactions The term "AI" Artificial Intelligence seems to be troweled on top of everything these days. But I feel we are all a long way from its true definition.

Disrupting Disruption As an industry that will survive we need to be Doing Disruption not just watching and waiting to be Disrupted.

Getting a hold on IT! Disruption is everywhere, open is on our mind and in our software & hardware. Autodidactic DIY is how we learn. Here are some resources to help kick start your digital transformation.
The Open Road Is Bumpy, Edgy, but Mindful if U R not ready you could lose control take the wrong turn, lose your way or even crash.
"Open"ing Mindful Building Emotions Just back from a kaleidoscope of future peeks into "Open"ing Mindful Building Emotions @AHREXPO 2019 Atlanta.
"Edge of Change" We need your input as we are now at the "Edge of Change" and you are part of this change.
Open 2019 "Open 2019" is mostly about opening our minds to the Edge of Change that is upon us.
changing collaborative connection communities - This is all important discussion needed in the necessary disruption that is driving our changing collaborative connection communities.
Edge-ifcation in the "Era of Connection" - Now we are in the fourth, an era of connection between our physical, digital, and biological worlds; a new phase of massive creative potential, where everyone has the power to share anything with anyone. This era brings with it an avalanche of new, creative ideas and opportunities.
"Edge-ifcation" Moving the murky muddled middle to the Edge.
Edge-ifcation Meets Maker Movement The movement is changing how we think about education, our relationship with technology and the underlying way we understand the world.
"Edge-You-Cation" Learning about our journey to the Edge
Open Software, Open Hardware, and Open Minds I scare myself several times a day, every day, learning lots while trying to keep an open mind, attempting to grow younger which is only possible in my open mind.
"Building Whisperers" Those who adopt a sympathetic view of the motives, needs, and desires of the Building's relationship with its humanistic purpose based on rapidly evolving views and understandings.
Building Better Building Bots Mindfully These bots will be the interface to our valuable cargo "the housed humans" in our buildings.
"Building Emotion Edge-Bots" It was great to get feedback on the excitement of the potential mash-up of a fixed physical asset and its emotional contents creating the new identity Building Emotion.
Building Emotion @ AHRExpo.com Atlanta The 2019 Show will be held in Atlanta, hosting more than 2,100 exhibitors and attracting crowds of more than 60,000 industry professionals from every state in America and 165 countries worldwide. The Show provides a unique forum for the entire HVACR industry to come together and share new products, technologies, and ideas.
"Building Emotion" Using "Building" as a verb and a noun in the creation of an emotional interactive relationship with the inhabitants and the Physical Building.
Takeaways from Helsinki The human centered steps to smart digitalisation at Nordic Smart Building Convention.
Seeking Stackable Semantics What are Stackable Semantics? and Why do they make for an Awesome User Experience - UX? while allowing us to achieve Virtual Visibility? Why do we Seek them? ....actually no, demand that they be part of our myriad of IoT device data that is creeping, and leaping into our buildings?
Creating Empathic People-Centric Buildings When you start down a new road you see everything differently, meet new people, (like the people in our buildings), are exposed to new ideas which come with new ways of thinking. - Ken Sinclair, AutomatedBuildings

Building an Awesome UX UX is User Experience and refers to a person's emotions and attitudes about using a service. - Ken Sinclair, AutomatedBuildings
Want IT Virtually Visible? Tag IT! If we wish to find our "IT"; our connected creations and have machine learning enhance and help us on our journey to self-create our newer creations, we must tag IT.

Creating Virtual Visibility You must tag IT, every creation and make it virtual visible.
Buildings that Look, Listen, Feel and Think before Reacting Humanistic Digital Inclusion "Look, Listen, Feel and Think before Reacting"
Meta-Morphing Mashup for Self Creation I believe that this mashup and new meta-morphing thinking will evolutionize how other industries will connect their standards, and open movements, and expose them to the power of AI; making all that we have machine-readable, unraveling on our transition to self-learning, and a self-creation world.

Transparency & Digital Twin is the New Deal The New Deal white paper provides a good summary and is based on three tenets, explained in full in the white paper.
Metamorphosing Me Younger mentors give me wings, keeping me connected to our rapidly digitally transforming lives, with their connections to yet younger metamorphic mentors.

Transparency Transformation As part of our never-ending transformation, we need to talk about Transparency which implies openness, communication, and accountability, operating in a way that thoughts, feelings, or motives are easily perceived and it is easy for others to see what actions are performed.
Building Brains If AI Is the Brain, IoT Is the Body and with all the parts identified digital transformation is changing our world faster than we can imagine.
Creating the Voice of IoT This column speaks about creating a voice for that face with a new breed of Voice Services aimed at evolving devices.

AHR Expo 2018 Takeaways Expo's education sessions have created an annual pop up university that keeps our industry-current, while encouraging industry sages to bring their younger mentors, their "IoT mini Me's" to the show.
Teaching the IoT Monster to Ride a Bike Our Messy Future "The Messy Mollusc"
Our Digital Transformation Mask The mask represents a material metaphor for carving our existing digitalized world into a shape never before seen, in a process that blurs the lines between science and art but inside that transformation is yet another amazing transformation opportunity to create a better image of ourselves.
Books and Resources on IoT A good place to start is with the IoT Council which I am a member of.

Timeline of Smart Building Automation Evolution I created this Timeline of Smart Building Automation Evolution, with over 100 events linking 1000's of industry articles and events depicting our history and painfully slow evolution. You will be amazed that some of this stuff we have been talking about for years; and how long open standards and accepted methodologies take to evolve.

Preview of AHRExpo Chicago, January 22-23, 2018

#RUIoTReady? The catchphrase, #RUIoTReady? has raised some interesting questions such as, What is IoT? Why should I care? and What does "Ready" really mean?
"Human-Centric Building Automation." To change your world we, of course, need the help of the phone in your pocket, and your phone, of course, knows your location, who you are, and a myriad of other information about you and your human-centric desires.
Most Impactful Marketing Collateral (Video, Product Rollout, etc...) of the Year

Required Reading for AHRExpo Chicago For our Education Sessions and the Connection Community Collaboratory

Embrace these Six Words for Transformation Agile Adaptive Autodidactic Autonomous Accepted Actions

Trends Towards Wearables and Wellbeing They also provide the potential to help provide a personalised environment suited to the individual wearer. If the wearer's personal preferences are known then the local environment can be adjusted to the 'optimal' temperature, humidity etc. A smart watch can even potentially signal that the wearer is tired and in need of more ventilation.
The Evolution of the Master System Integrator (MSI) - A new breed of folks called MSI are rapidly evolving to help us with the process of "Getting There from Here."
A new generation of smart autonomous sensors is coming - Smart sensors add a higher layer of sophistication to the efficiency of IoT communication processes, and according to Ahmad they have the ability to transform many industrial sectors and everyday environments. - Marga Verdú
Streaming Dinosaur Dust We need to learn to stream dinosaur dust in the new social self learning online environments. The industry's info dumping of large pieces which I call "the dinosaur dump" is not working for teaching those new generations that will become the new us.
Everything is Connected - Reflections from IBCON 2017 San Diego The real estate industry is being disrupted big time, and everyone who wants to survive has to get onboard. - Patrik Etelävuori, Head of Concepts and Innovations - Facilities, Tieto
Building Health Resources We have provided connection to resources that will allow you to qualify and quantify the value of Building Health as a very important part of the productivity puzzle.
The Skills Gap & Autodidactic Open Source Education - Some speculate that there are 1,000,000 IT jobs and 500,000 facility jobs currently vacant due to a skills gap.

Volttron with two "TT's" - The Super Robot defender of the Universe rises to save us from yet another annoying acronym.
Discussion on Using the Uber Model - I disagree with the assertion that Uber is overstated. Vehemently so.
Our Long Road to Happiness Is paved with thousands of articles, interviews, news releases and new products on the road to find the happiness button over the last 19 years. This is not my story but the story of industry giants helping me create an online collaboratory of their powerful thoughts.
Wellness Resources part of March theme "Engaging Satisfaction & Wellness."

History of Awful Mated Buildings We have been here before with Awful Mated Buildings and the digital divide.
Our Industry Assets are People This opinion piece appeared in the AHRExpo Daily handout newspaper at show in Vegas.
Our Mission - To be the Catalysis / Harbinger of The IoT Future of Building Automation as set January 2017
Do a quick 3D flyover of all our back issues in less than a minute.
3D button is located just at the left bottom. Scroll through the over 20 years you will be surprised how long we been talking about some of this stuff. You can click on any issue for a quick overview of issue contents for more info keep drilling down with a connection to that issue and all of it articles, interview, columns, and news.


Timeline SMART BUILDING AUTOMATION EVOLUTION
From Y2K to 2020 it has been a journey Click on 3D for a fly over - a blur of our past 20 years
OVER 200 articles creating the CHAPTERS of OUR NEVER ENDING BOOK


---

[Click Banner To Learn More]
[Home Page] [The Automator] [About] [Subscribe ] [Contact Us]