---
AHRExpo 2019 Atlanta AutomatedBuildings.com

Free Education session



Ken Sinclair

Founder, Owner, Publisher AutomatedBuildings.com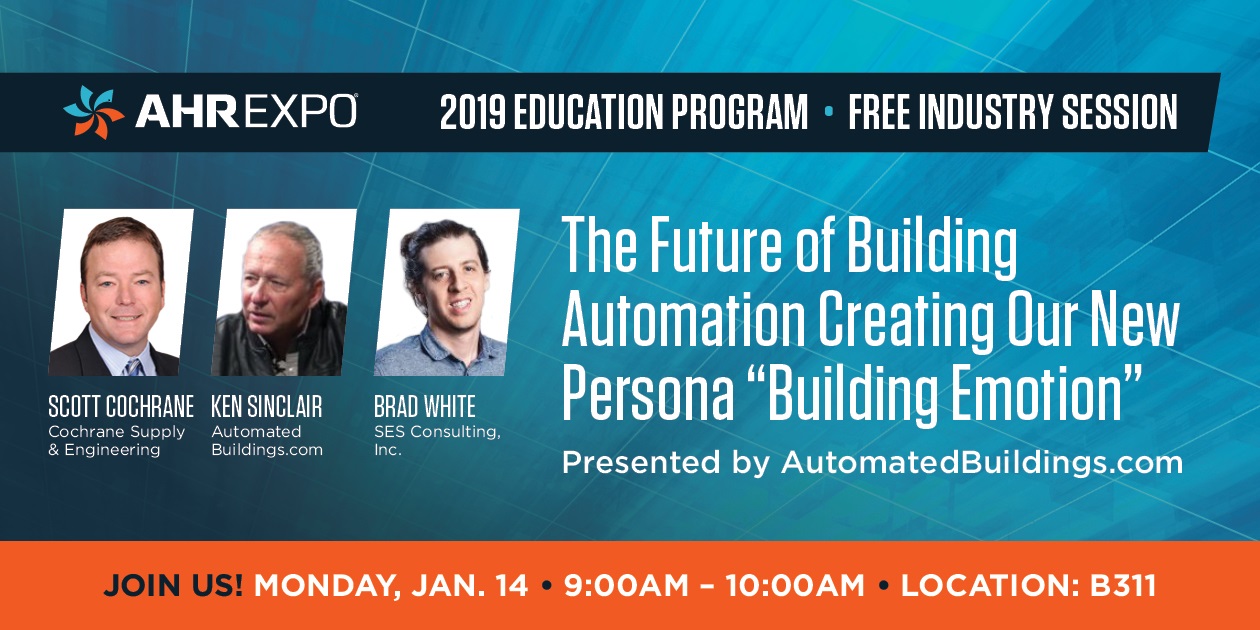 AutomatedBuildings.com 9 Free Education Sessions @ AHRExpo 2019
Please join us to open your mind to growing younger be sure to download the app https://ahrexpo.com/app and put us on your show planner custom agenda so we know you are coming.
My Show Planner combines planning and logistics into one easy-to-use tool.

The Future of Building Automation Creating Our New Persona "Building Emotion" Mon. January 14 9:00 AM - 10:00 AM Room B311

Actions Learning Emotion by Looking, Listening, Feeling, Thinking before returning a mindful reaction in a Humanistic User Experience "UX". "Emotion" is the noun used to describe the creation and depiction of a mindful interactive relationship — the conversation if you will — between the inhabitants and their physical building. It is a virtual identity, a feeling, a learning, an interactive piece, a virtual brick-and-mortar that hosts the buildings' emotion. "Building" is the verb or noun that modifies it. A mash-up of a physical fixed asset and its emotional contents creates the new Building Emotion identity.So how do we best "Look" with rapidly evolving video analytics, and "Listen" with natural language interaction and learning, using the personal assistants that are evolving as part of our edge-bots? How do we use our history of "Feeling" temperature, humidity, occupancies etc. and best combine this all with "Thinking" that will come from self-learning? Once complete we need to work a lot harder on returning that mindful reaction in the creation of Anticipatory Humanistic Relationships.
W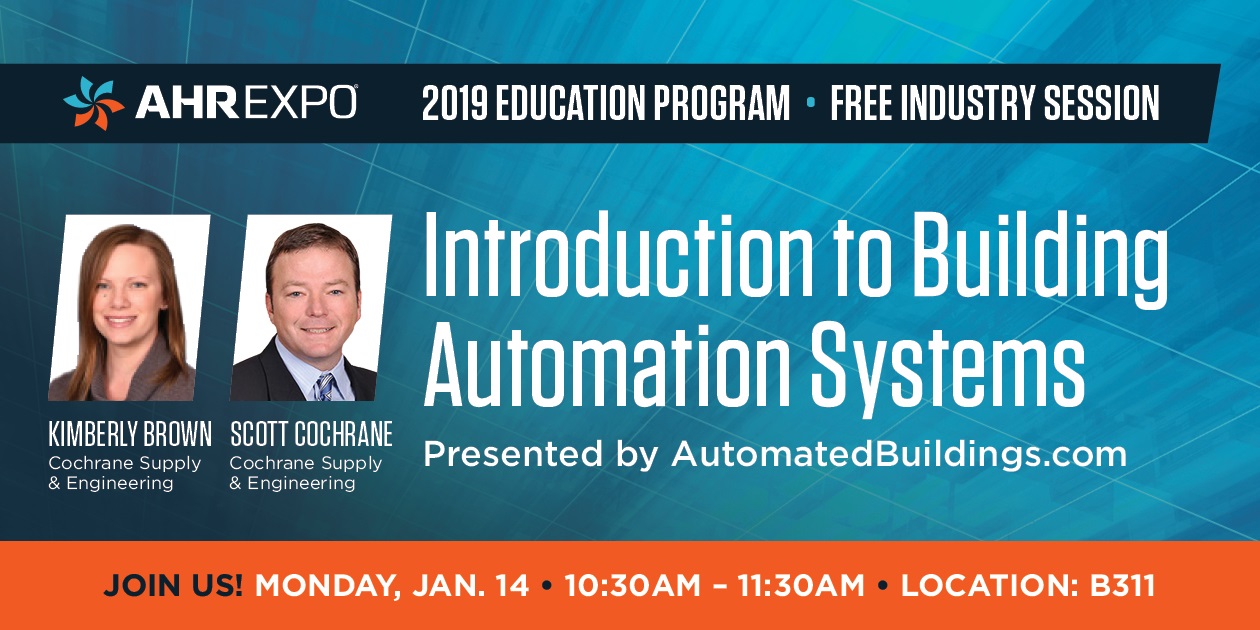 ant to read more? The Edge of Building Emotion @AHRExpo 2019

Open BAS is About to Get Bumpy!! Scott Cochrane, Cochrane Supply & Engineering

"Open"ing Up Our Buildings Brad White

Introduction to Building Automation Systems Mon. January 14 10:30 AM - 11:30 AM Room B311



Here is a link to the video of Scott and Kim's Intro to BAS session





Session PDF





In this introductory session, attendees will get an overview of Building Automation Systems (BAS) and how they automate the operation of a building. The speakers will explain the purpose of BAS, or Building Management Systems, how it collects information about a building, and factors that affect implementation, processes, and decision-making. This interactive session will additionally build the foundation for the audience to develop an understanding of BAS, the benefits that it brings, and resources to further that knowledge based on individual needs (from basic to more advanced).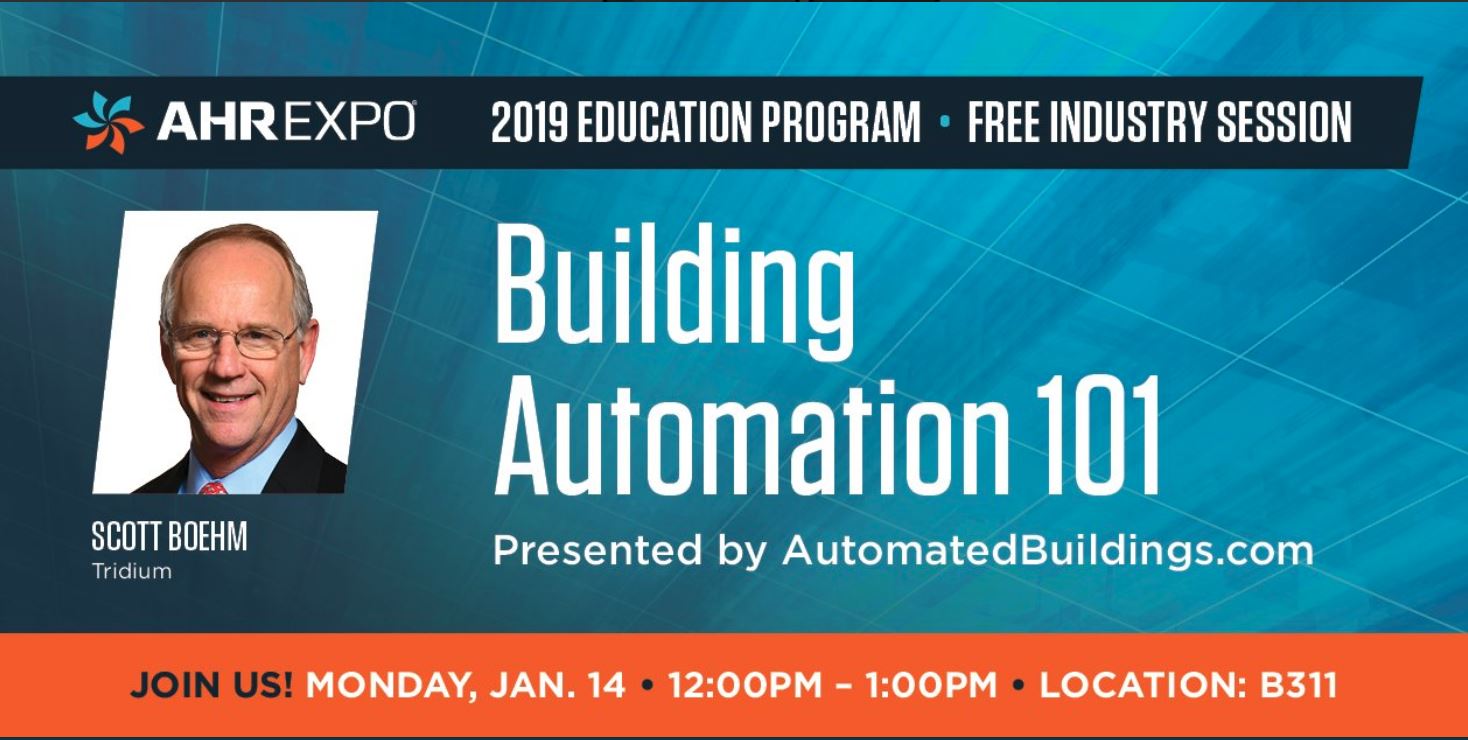 Building Automation 101 Mon. January 14 12:00 PM - 1:00 PM Room B311

This session will be a primer for entry level students and interested professionals. It will primarily focus on current building automation topics as well as define some of the more common industry terms such as: protocols, connectivity, interoperability, wired vs wireless, Internet of things (IoT), big data, analytics, etc. Also, the value proposition and a simple building automation system architecture will be presented for discussion.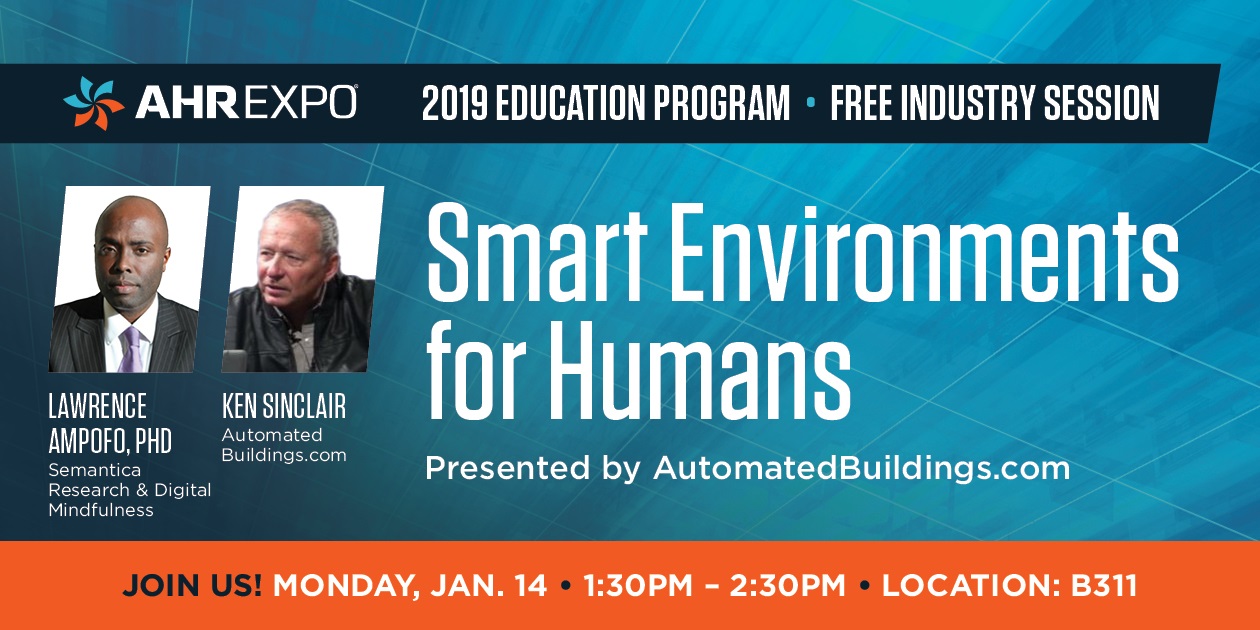 Smart Environments for Humans Mon. January 14 1:30 PM - 2:30 PM Room B311
Listen to this episode where we distill my talk to its key points
https://twitter.com/lampofo
Ken and Lawrence will discuss with you "To succeed at digital transformation, instead of making humans more technical, we need to make technology more human."Welcome to Digital Mindfulness Unlocking value and opportunities from time well spent digital experiences – Current smart environments operate on a machine level and do not understand people – New paradigm: smart environments can operate at a human level – New technological innovations (AI, Emotive Computing) and advances in scientific disciplines (neuroscience, psychology) will demonstrate this to be possible.
Smart Building Automation Evolution from Ethernet to Emotion Tue. January 15 9:00 AM - 10:00 AM Room B311

Our BAS evolution is closely coupled with the internet. What has changed in the 20 years of the Internet? Cost is down; speed is up, everything has an IP address, the Internet has become clouded with powerful microcomputers that are out on the edge, self-learning and sharing their intelligence with everyone – and everyone is continuously connected. This is AutomatedBuildings.com 20th year of providing education sessions at AHRExpo and during that period a lot of evolution has occurred. Brad and I will pull from this evolution timeline goo.gl/q8RmbR the significant events and milestones that are like to be part of our next 20 years. Brad joined the evolution at the halfway mark so provides a different a new perspective on our history. We will share takeaways from the Helsinki Head Shake event and our recent 20-year industry journeys, all digitally documented. We will discuss the crest of change now coming with digital mindfulness, building emotions, and self-learning edge-bots. Instead of trying to make humans more technically savvy, make technology more human. Come and join us, it will be a fun and a great industry discussion providing insight and generating a new conversation. timeline SMART BUILDING AUTOMATION EVOLUTION
Semantic Tagging Passes an Inflection Point - Understanding Project Haystack Tue. January 15 10:30 AM - 11:30 AM Room B311

Haystack Connect 2019 is organized and produced by the Project Haystack Organization—an open source community of people and companies who share the vision that a connected, collaborative community can move the industry forward in ways that no single supplier can! The event builds on the inspiration and mission of the community to address the challenges of making smart device data work seamlessly across applications of all types. Also winter 2019 issue of their Connection magazine is now online.
Today's equipment systems produce vast amounts of data. In order to utilize this data effectively to be useful to downstream applications like analytics, security compliance, work order tracking, and more, the data must include information to describe its meaning. Today, most operational data has very limited descriptive information requiring a manual, labor intensive process to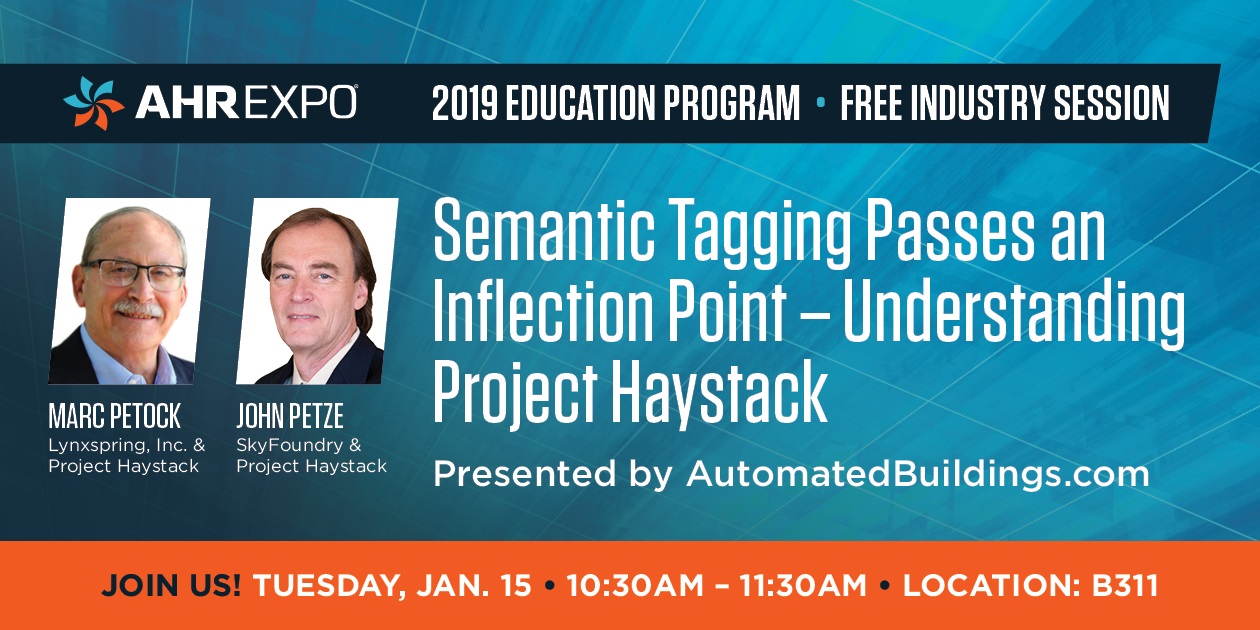 "map" the data before value creation can begin. The practice of applying descriptive information to data is referred to as data semantics. Since the ASHRAE announcement of BACnet/Haystack/Brick collaboration, there is a lot of movement on tagging among manufacturers. There is a mix in the level of tagging support each vendor now has for the Haystack library and the BACnet approach, but, there is no pushback regarding the need to support standardized tagging. They are either already doing it, or it is on their roadmap. They all understand this is where the industry is headed as the industry learns to utilize smart device data to reduce operating costs and create value for building owners and operators.
Want to read more? Project Haystack Update
John Petze, Marc Petock, Project Haystack
Next Generation HVAC Controls: Open Hardware – Open Software Tue. January 15 12:00 PM - 1:00 PM Room B311

Please meet our Young Contributing Editors.
Truly open hardware and software is common in many industries but has only made relatively small inroads in the world of building automation where proprietary solutions still reign supreme. Open standards like BACnet enabled a revolution in open communications, but the vast majority of building automation software and hardware is still closed. "The mass marketing of powerful micro PCs such as the Raspberry Pi brings low-cost computing power to technical professionals and hobbyists alike. Suitable for most field installations, they also provide an excellent training and experimental platform for individuals interested in controls and automation. Coupled with an open protocol in BACnet and an open programming language in Sedona, it only takes the imagination of the systems integrator to define the next generation controller." AutomatedBuildings.com is very pleased to introduce this amazing panel of less that forty-year-olds for this new first ever education session for Atlanta a very interesting perspective on our future by those that are now creating it.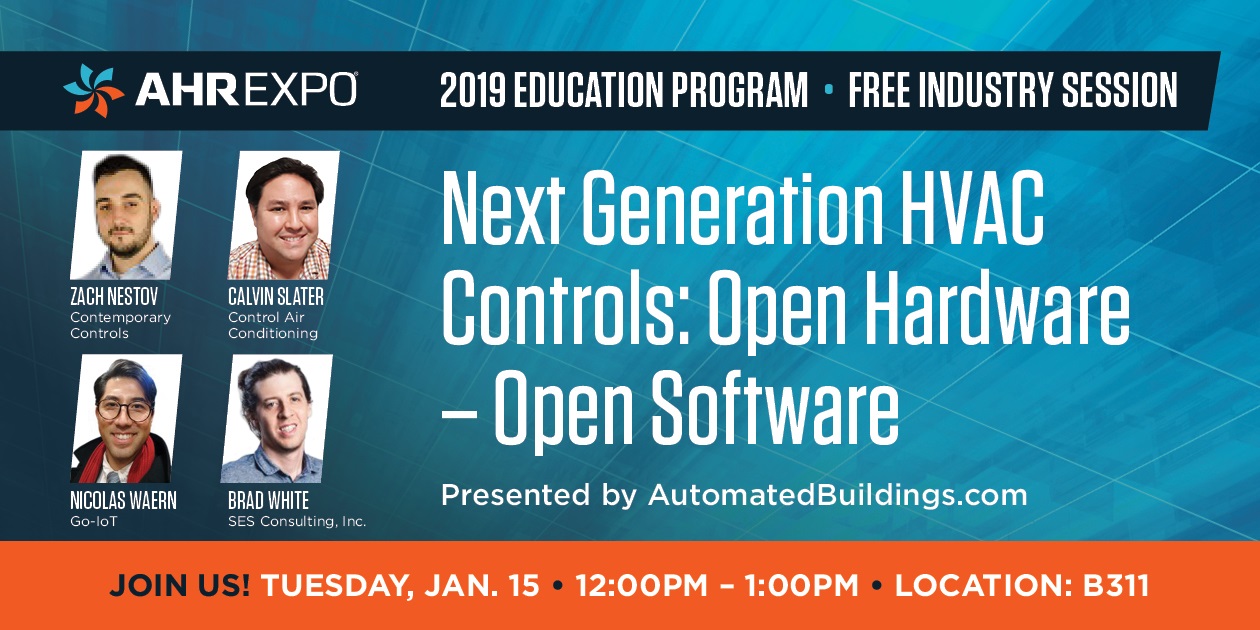 Want to read more? Contributing Editor Brad White and his fellow panelists explore the rise of truly Open everything including, Open Minds.
"Open"ing Up Our Buildings Brad White
Exploring Our Human Connection: 7th Annual Connection Community Collaboratory Tue. January 15 1:30 PM - 2:30 PM | B311
How do we best "Look" with rapidly evolving video analytics, "Listen" with natural language interaction and learning, using the personal assistants that are evolving as part of our edge-bots? Use our history of "Feeling" temperature, humidity, occupancies etc. and best combine this all with "Thinking" that will come from self-learning. Once complete we need to work a lot harder on returning that "Mindful Reaction" in the creation of an Anticipatory Humanistic Relationships. We will build on last year's Sixth Annual Connection Community Collaboratory — A Panel of Industry Thought Leaders Deliver a Successful Session Moderator Ken Sinclair, Automated Buildings, was joined by a panel of veteran industry experts: Marc Petock, Trevor Palmer, Troy Davis, George Thomas, and John Petze at the Sixth Annual Connection Community Collaboratory held at the AHR 2018 in Chicago. The session was very well-attended by a mixed audience of Manufacturers, Building Owners, Engineers, System Integrators, and HVAC Contractors — and began with each panel member giving an overview of their perspectives on a range of current industry topics such as IoT, Edge Devices, Edge Processing, and the impact of IoT micro-controllers — advancing into several highly interactive discussions. Ken Sinclair summed up the success of the collaboratory best: "In the past, our sessions have primarily focused on software, analytics, and protocols. For the first time ever, hardware started to enter into the conversation with the likes of Raspberry Pi's, Beagle boards, Amazon Echos, and Hey Google's; a very interesting transition, which led to some extremely interesting discussions."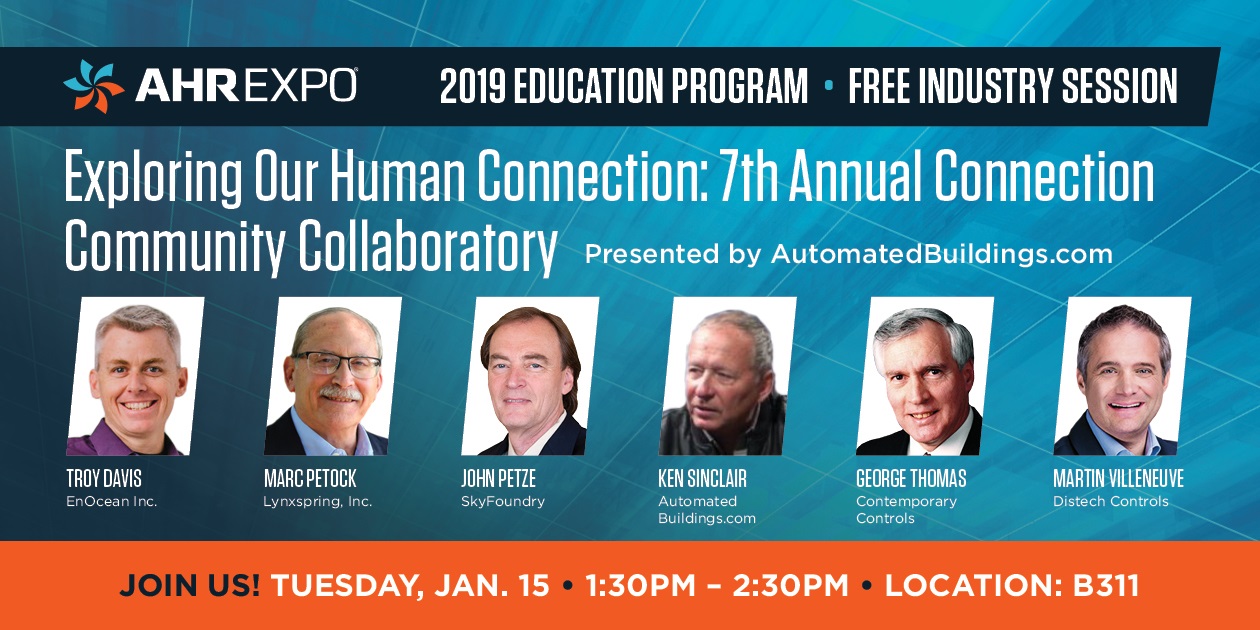 Want to read more? changing collaborative connection communities
The Future of the "Super" Master Systems Integrator Tue. January 15 3:00 PM - 4:00 PM | B311

This panel session will provide an interactive analysis of the attributes of successful Master Systems Integrators (MSI), the challenges they face and how to overcome those challenges to develop into a "Super" MSI! Staffing is proving to be a growing issue within the industry and the panelists will explore how to find the right people, how to bring them into this industry properly, and how to continue to develop them to build the foundation for the greatest chance of success. The discussion will take a step further and dive into the business of MSI. Panelists will show examples of different types of MSI contracts/projects and break down the MSI cost and profitably against the original proposal to demonstrate what types have proved profitable and which have not. By staying at the forefront of staffing and optimal business objectives, companies have the opportunity to develop Super MSI's that set themselves apart and create huge value on projects within standard budgets.
Want to read more? Scott Cochrane has the unique benefit of working with 300+ of the best systems integrators in the country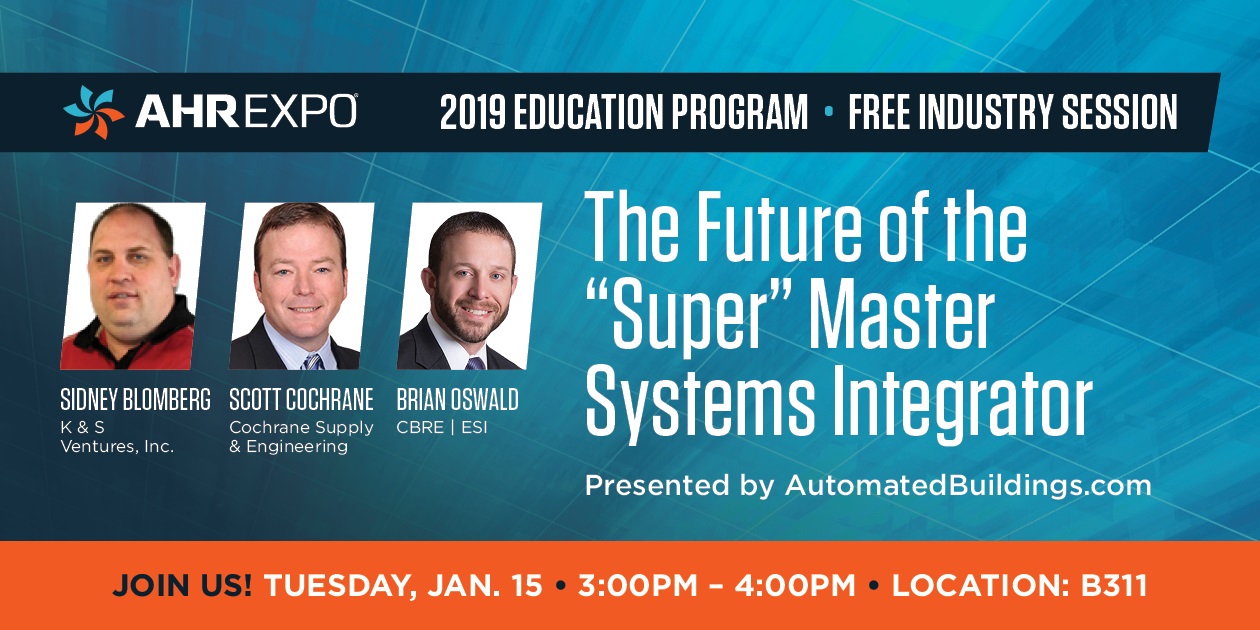 Required Reading for AHR Expo, Atlanta For our Education Sessions and the Connection Community Collaboratory
CONTROLS-CON will take place May 2nd and 3rd, 2019 at the MotorCity Casino Hotel in Detroit, Michigan. This fast-paced, education-packed event will bring together hundreds of integrators and end users from throughout the United States and Canada to explore the latest technologies and possibilities of Building Controls and the Internet of Things (IoT) in commercial and industrial buildings.

Building Emotion @ AHRExpo.com Atlanta The 2019 Show will be held in Atlanta, hosting more than 2,100 exhibitors and attracting crowds of more than 60,000 industry professionals from every state in America and 165 countries worldwide. The Show provides a unique forum for the entire HVACR industry to come together and share new products, technologies, and ideas.
Our key speakers

Ken Sinclair Founder/Publisher/Owner, AutomatedBuildings.com
Brad White P.Eng, MASc President, SES Consulting Inc.
Scott Cochrane is President and CEO of Cochrane Supply & Engineering
Lawrence Ampofo, PhD Founder & Director Semantica Research & Digital Mindfulness
The New Dialogue in Smart Buildings Today, most have embraced the fact that technology is changing the game and is the cornerstone of operating buildings as an economic model. - Marc Petock, Chief Communications Officer, Vice President, Marketing, Lynxspring Inc

Project Haystack Update There are several exciting happenings and events taking place with Project Haystack. - John Petze, Executive Director, Marc Petock, Secretary, Project Haystack

Smart Outcomes for AHRExpo 2019 Come to check out our live demonstrations and see how Optergy workflow works; you can even connect your own laptop if you like. - Steven Guzelimian, President, Optergy
Our Advertisers at AHR 2019

BACnet International - Booth C5147
Belimo Americas - Booth C5141
Contemporary Controls - Booth C5218
Control Solutions - Booth 4114
CUBE USA - Booth C5917
Cylon Auto-Matrix - Booth C5167
Delta Controls - Booth C5307
Distech Controls - Booth C5339
Lynxspring, Inc - Booth C5352
Reliable Controls - Booth C5028
Optergy - Booth C5225

2019 AHR Expo Education Program & Speaker Line-Up Show is the industry's best opportunity to take advantage of free seminars, professional certifications and continuing education courses under one roof

ASHRAE Announces Technical Program for 2019 Winter Conference The technical program has been announced for the 2019 ASHRAE Winter Conference, to be held in Atlanta, Ga., Jan. 12-16, at the Omni Hotel Atlanta at CNN Center and the Georgia World Congress Center. The conference technical program, which offers over 100 sessions, is now available in the ASHRAE

Project Haystack Update There are several exciting happenings and events taking place with Project Haystack. - John Petze, Executive Director, Marc Petock, Secretary, Project Haystack
More than 68 free seminars



[Click Banner To Learn More]
[Home Page] [The Automator] [About] [Subscribe ] [Contact Us]