The latest news, articles and reviews for the Building Automation Industry.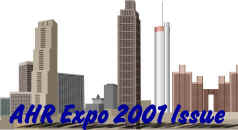 February news releases now on line.
see our AHR EXPO 2001 Review - Atlanta
"State-of-the-Art Capabilities in Building Automation" AHR Expo Session
Head Retread - Update on the above AHR Expo Session in Atlanta
Special AHR Show Preview for Automation Exhibitors to show featured products and provide news releases.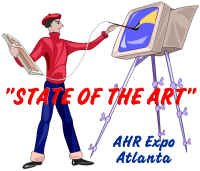 More information on the Sessions at AHR Expo.
Our contributing editors have provided excellent articles for our special show issue.
Hartman - Steps to a More Efficient Chiller Plant a follow up article to Improve Chiller Plant Efficiency! Mc Gowan - DDC's Future 1-01 Damiano - The REAL Costs of Poor Indoor Air Quality
In addition to the above article, Tom Hartman is providing two presentations at the ASHRAE Winter Meeting in Atlanta.
1. Symposium 2, at 8:00 AM on Sunday, January 28th Central Energy Plant kW per ton and Demand Controls
2. Seminar 29 at 10:15 AM on Tuesday, January 30th Adding New Life to Old Systems: Control Retrofit Case Studies
I am excited about my presentation with Dave Branson at the Expo. The Head Retread article provides insight into our direction. There is still time to share your thoughts with us on what you think the "State of the Art" is, email me your observations. All exhibitors and automation stakeholders are invited to provide input for these Expo sessions for 2002 and beyond. Come out Wednesday, January 31st 9:15am to An Open Forum for Automation and the Future.
Industry advertising/sponsorship is an important part of AutomatedBuildings.com overall content, as it allows us to provide our services free. To keep our Global Automation Portal or Vortal very focused and vertical we approach only industry building automation players as sponsors and advertisers. In this way we eliminate the amount of non related information presented to you. The Business to Business or B2B within the Building Automation Industry that occurs on our web site is becoming as important as our industry presence as "The Large Building Automation Online Resource". Please welcome our newest sponsors
Kele is the leader in DDC interface devices
Siemens Building Technologies Inc, an international industry leader in providing building management solutions
Cimetrics is a leading provider of embedded network control hardware, software and consulting services.
Paxton Paxton Corporation provides high quality valves and actuators
Computer Integrated Building Operations CIBO the next generation in building automation systems.
TAC Americas provides integrated command of lighting, HVAC, access, safety and other functions
Delta Controls Inc a leading manufacturer of high quality building automation systems (BAS).
Greystone Energy Systems Inc Canada's largest independent manufacturer of HVAC sensors and transducers f
Reliable Controls 100% Canadian-owned manufacturer of innovative, embedded micro-controller hardware and software
Are you having trouble keeping up with the evolving Network & Internet Standards? We have created a new section that has linkage to over 25 communication standards. Our Summary of New Industry Links allows you to quickly view who is new and happening. On Line Training and Information Resources is just the start of what I feel will grow to a useful part of our site providing access to training for the industry. Scheduled Industry Courses has also been added. Looking for a job? or help for your company to grow? Dealers? checkout our free Want Ad Section
Our March 2001 issue theme will be "Control Without Wires". We will explore the "Wonderful World of Wireless" and how close it really is. Please help me with your wireless articles and products.
AutomatedBuildings.com's purpose is to connect our readers with timely and new information on any Buildings Automation subject, so as always we are interested in any of your articles, news, new products.
We are running a Special AHR Show Preview January 2001 issue with an update January 15th. This presents an excellent opportunity to preview your products and concepts so our readers can visit your booth with some insight. If you are not able to be at the show this also offers an opportunity to reach that market virtually.
Check out the articles by our Contributing Editors Thomas Hartman, John J "Jack" Mc Gowan, Leonard A. Damiano and Me.
Be sure to check out this month's articles, new products and January's news releases. Our Reader Profile outlines who reads AutomatedBuildings.com.
Previous Favorites is where we add the article most viewed in the previous issues.
November/December issue favorite was extremely close in reads
John J. "Jack" Mc Gowan, CEM Energy Control Inc. Control Synthesis
Len Damiano, EBTRON, Inc. The Advantage of Direct Measurement for Ventilation Code Compliance with Energy Optimization
Tom Hartman, The Hartman Company Designing Greener Buildings
September/October issue favorite was Jack McGowan, Hydroscope Inc, USA
DDC Networks:...is the question really: BACnet™ or LonWorks™?
- July/August issue favorite was Tom Hartman, The Hartman Company
The "COMFORT INDUSTRY" a 21st Century Opportunity
- May/June issue favorite was Earl Gray, Control Contractors, Inc
Achieving Control System Independence - Controls Computers and Standards
- March/April issue favorite was John Petze, Andover Controls Corporation
The Benefits of Ethernet to Building Automation
- January/February issue favorite was Tom Hartman's
HVAC Control: An Essay on Change
- November/December issue favorite was
Are Automated Buildings Converging or Colliding with the Internet?
- September/October issue favorite was Notifact Systems'
Combining Wireless Technology and Internet -- Seamlessly
- July/August issue favorite was Tom Hartman's great article prepared for our official launch.
Network Control: A New Paradigm For HVAC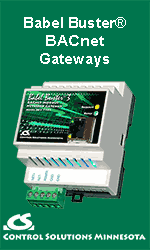 This is not just a spectator sport, please send your articles, new releases and new product information to us. Click here to see article format.
January's Articles
January's Product, Software and Web Site Reviews
Convergence of Industrial and Commercial Control - The Industrial Controls Industry has had the reality of extremely large projects/budgets, critical control applications and a myriad of control components interfaces from separate manufacturers. These realities allowed the industry to develop powerful software applications built with soft interfaces like DDE, OPC, SCADA, etc. The cost and sophistication of industrial control was not practical for use in the extremely competitive Building Automation Industry.
Fire Detection & Safety Systems - The European Market 2000-2005 AutomatedBuildings.com mission has become to provide you connections to related building automation information that maybe useful to you. The ProPlan web site is one of these sites. Their latest report is highlighted below but visit their web site for many more. ProPlan will attend the AHR Expo, to launch the second edition of the North American study (two years from the launch of the first).
---

[Click Banner To Learn More]
[Home Page] [The Automator] [About] [Subscribe ] [Contact Us]