---
"Sell the way buyers buy." That was the theme of Together for Industry hosted by Thomas last month in the Chicago area. And why would you want to do that? To get better sales results.

For Building Automation System Integrators, three important considerations are behind this powerful idea.
The industrial buying process is buyer-driven

Industrial buyers have changed.
Decision making is managed by Buyer Teams, comprised of internal and external influencers.

Industrial sales and marketing are transforming.
Driving sales (51%) and building brand awareness (48%) are the two top digital marketing priorities for small businesses (Leadpages, 2017)
96% of Small & Medium Businesses say they use social media in their marketing strategy. (Social Media Examiner, 2017)
81% of B2B companies use Blog as a content marketing tactic. (Content Marketing Institute, 2016)

So, what does this mean for System Integrators?

At a minimum, the quality of your website is important. A modern website that delivers credible, relevant information positions your company as a credible, relevant building technology partner.

Delivering online resources that are aligned to the buyer process improves your chance of making the short-list and makes your salespeople more effective. Examples include Capabilities Overview, Solution Architecture, and Specifications.

All of this creates a chance to ignite engagement with the customer. Some of that content can be gated on your website, meaning the customer can download it in exchange for their name, email and phone. This now becomes a warm lead for your sales team to follow up with. It's a simple call or email to see if the person has any questions.

The Millennial Effect

Millennials were born between 1981 and 1996. No doubt they walk, talk, and eat digital in their personal and business lives. Today's oldest millennials are already leading the decision-making process for many of your customers. As influencers and decision makers, they expect business partners to provide informative resources online throughout the buying process. They further expect support tools during implementation and for the operational lifetime of the solutions you provide.
The bottom line? A dual relationship with System Integrators
Today's building technology customers expect a dual relationship with System Integrators that helps them work through their buying process. First is the traditional sales channel that establishes a relationship with the customer and manages the opportunity for a successful outcome. Second, is a Digital channel that delivers credible, relevant information via website, email, social media, and trade media.

The Sales Channel and Digital Channel are most effective when aligned with the buying process, as shown here.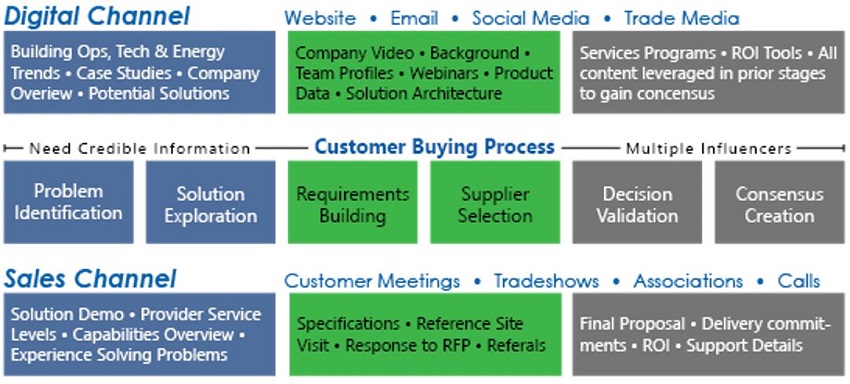 Five simple Digital steps System Integrators can take to Get Better Sales Results

Understand what questions your clients are asking and when.
Yes, the top 3-5 things they've always wanted to know still apply. But every one-off call to a salesperson or your service desk is a wealth of information that you can leverage to get a lot clearer about what your customers need to know in order to sign up or renew with your company.

Create content aligned with those questions.
It's easier than you think to create bite-sized content to answer customers questions through eBooks, 90-second videos, and more. Do one eBook and video every week for 12 weeks, and suddenly you have a digital resource library that your competition can't touch.

Use your website to accelerate your sales process.
Modernize the look of your website to publish your new content. eBooks and video content can be very effective in generating new leads and customer engagement.

Use LinkedIn to gain precise visibility.
LinkedIn lets you precisely target customers and influencers, increasing your visibility and credibility within the market.

Use email to reinforce customer loyalty.
Your new content library of credible, relevant information gives you a built-in reason to begin an email program to your existing customers — customer loyalty and share of wallet increase over time. As customers engage with your content, you are generating new leads and customer conversations for the sales team.

A final word

If you're thinking, "business is great. We don't need a digital channel right now." Then ask yourself the question you already know the answer to, when is the best time to get a lawyer? Answer: when you don't need one. The same thing goes for your digital channel.


---
About Your Growth Engine, LLC
Your Growth Engine, LLC, led by Kevin McCaughey, is dedicated to delivering marketing services that help building automation system integrators get better sales results. More than any other marketing partner, Your Growth Engine knows building automation and security. You get results faster, and we work seamlessly as a member of your team due to our industry experience. Your marketing sounds like it was produced by people who work in the industry because we do! Connect with us at https://yourgrowthengine.com or call us at 617-283-0821.


---


[Click Banner To Learn More]
[Home Page] [The Automator] [About] [Subscribe ] [Contact Us]