---

EMAIL INTERVIEW – Marc Petock and Ken Sinclair
Marc Petock Chief Marketing & Communications Officer,
Lynxspring, Inc.
Marc Petock is Chief Marketing and Communications Officer for Lynxspring, Inc. where he heads corporate, product and marketing strategy, strategic relationships, brand management, the customer experience, public relations and communications that support market share and the company's revenue initiatives.
Marc is a respected author, speaker and recognized industry leader having earned Realcomm's Top 35 People to Watch for several years in a row, M2M's Who's Who in M2M, a Realcomm Digital Impact Award, and several other industry accolades. He is a recipient of the Niagara Community Spirit Award and the first recipient of the "Petock Award," now an annual industry award named in his honor. Mr. Petock is a contributing editor to Automatedbuildings.com; a board member and contributor to the Project Haystack Organization and an advisor to Realcomm/IBcon. He is also the master of ceremonies for the annual ControlTrends awards.
Contributing Editor
---
E2E (Edge-to-Enterprise)
These controllers enable users to manage and control closer to where the data actually is whether it be equipment, a single facility or a multi-site environment.
Sinclair: So, what have you been up to lately?
Petock: In addition to launching several new customer initiatives and solutions, it has been non-stop on the road, in the air meeting with customers, industry executives. And like you, attending and speaking at key industry events including Haystack Connect (www.haystackconnect.org) and Realcomm/IBcon. And if this wasn't enough, there is keeping up with my four-year-old grandson and the Saturday big adventures we go on.

Sinclair: You mentioned new initiatives and solutions, tell me about them?

Petock: Back in 2015, we took a hard look at the market, conducted numerous hours of VOC. We concluded that the built and facilities environments were on the verge of experiencing a revolution wave in which IP and the edge-to-the enterprise were going to be where the industry was headed. As a result, we created a multi-year, corporate strategy and product roadmap known as E2E (Edge-to-Enterprise) to develop a portfolio of IP enabled edge products, solutions and services to meet this approach. And since then, that is what we have been doing.

Sinclair: What are some of these new product offerings?

Petock: Our JENEsys Edge portfolio of programmable controllers that enable IP connectivity, integration, interoperability, data access and control at the edge. Built on Lynxspring's extensible Onyxx® IP hardware platform and powered by the Niagara Framework®, we brought to market the JENEsys Edge 534, a Niagara 4 Controller with 34 IO built-in and expandable IO through XM expansion modules.

We also released last month, the JENEsys Edge 514 a fully Niagara programmable and licensed Niagara field and equipment controller with 14-IO onboard and expandable IO through the XM extension modules. These controllers are ideal for today's built environment including small to mid-sized facilities, multi-sites, plant and equipment control such as air handling units, rooftop units, boilers, fan coil units and heat pumps.

Sinclair: These are indeed very exciting as you have taken the Niagara Framework and have brought it to the edge. What other benefits do you see?

Petock: There are many---- the ability for users to leverage the same Niagara programming tools, Workbench and Fox Protocol in which they are already accustomed to and further maximize their investment in Niagara. In addition, these solutions offer the capability to use Niagara as a single layer/backbone and across the entire building architecture. Users also enjoy faster deployment times, reduced setup and management costs, reduced complexity and have the ability to add their own value-added applications.

Furthermore, these controllers enable users to manage and control closer to where the data actually is whether it be equipment, a single facility or a multi-site environment. Their versatility, functionality and footprint using the industry's most widely deployed platform make them a powerful, cost-effective and economical solution for system integrators, building operators and equipment manufacturers.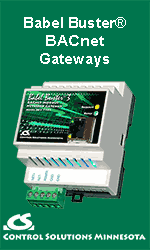 Sinclair: What other product offerings are you planning?

Petock: With our commitment to the edge-to-the-enterprise, we have several within the roadmap. Included are a JENEsys Edge 534 with 4G cellular and a unit that combines this capability with the ability to connect directly to and receive data from Monnit sensors. In addition, we have what we refer to as APCs (Application Programmable Controllers) and ASCs (Application Specific Controllers). Stay tuned for more.

Wait, there's more! We also have enhancements going on with Onyxx SkySpark Edge Analytics, an edge data analytics device that enables SkySpark to be done locally at the device level and Connexxion, our data management and Cloud application.

More information can be found at www.lynxspring.com or contacting marketing@lynxspring.com


---

[Click Banner To Learn More]
[Home Page] [The Automator] [About] [Subscribe ] [Contact Us]