---
Articles - March 2015

Our authors provide insight into our rapidly evolving industry.
Please take the time to read their valuable articles.

A Preview of the Haystack Connect Technical Program Haystack Connect 2015 (May 18-20) brings together the systems integrators, technology providers and end users who are leading the way to more efficient and sustainable buildings and advanced smart-device applications. - Project Haystack - Haystack Connect Organizing Committee
ASHRAE: From HVAC&R to Sustaining the Built Environment - Tom Phoenix, President, ASHRAE
Last Month in the Automation Ballet In just the last few weeks there were some notable announcements about automation and machine learning coming from all corners. - Therese Sullivan, Principal, BuildingContext Ltd
Wireless Communication Standards for the Internet of Things White Paper - Cees Links, CEO, GreenPeak Technologies
From Buildings to Campuses to Cities and Beyond… We specialize in graphically representing the collected data on a desktop, browser or mobile device to allow building operators and managers to optimize their business processes. - Melissa Topp, Director of Global Marketing, ICONICS, Inc
Moving Controls from a CapEx to an OpEx World Building services are the single most adapted elements of a building during its lifetime. - Mike Welch, Managing Director, Control Network Solutions
Beware of Trojan Horses Bearing BACnet Logos From the perspective of a Commissioning Engineer - Matt Schwartz, PE, Senior Associate, Altura Associates
Powering the Edge to the Enterprise Today's market leaders understand that the value of connecting equipment and the collection of accurate data for driving cost-savings, increased customer satisfaction, brand differentiation, and increased revenues. - Marc Petock, Vice President, Marketing, Lynxspring & Connexx Energy
Systems Convergence HVAC & Security - Todd A. Finnegan, President, ACS Services, LLC
Optimized Control Strategy for Building Operation Using Single-Loop Operation With the robust control technologies available, we may need to think batch flow concepts, with all subsystems dynamically optimized to meet required part load operation efficiency and ventilation requirements. - Alan F Stewart P.E., Stewart Engineering Services Corporation

Internet of Things will Determine the IP Video Surveillance Tipping Point The future growth of IP Video cameras will now depend upon how fast IoT is taken up by building owners and operators. - Allan McHale, Director, Memoori
The Case for Dedicated Smart Building Networks Breaking up doesn't have to be hard to do - Pook-Ping Yao, CEO, Optigo Networks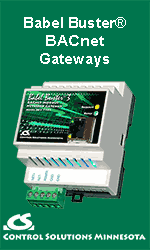 Columns - March 2015
AHR Chicago: Not So enLIGHTening The Next Big Thing had an Itty-bitty Presence - Andy McMillan, Strategy Consultant & President, BACnet International
Maximize Training Dollars in 2015 I personally feel that any investment in training pays off tenfold in employee loyalty and retention, but if that investment also propels the company forward by being prepared to accept new growth, then that is a good investment. - Manny Mandrusiak, Managing Creative Consultant, 4 Bravo Marketing

The Importance of Lists Part Four - Field Surveys continued - Steven R. Calabrese, Control Engineering Corp.

Lab Hood Control Ideally the more data that can come back into the BAS, the better the facility operations team can work with the lab staff to make sure that things are being operated efficiently. - Paul Ehrlich, Ira Goldschmidt & Angela Lewis, Building Intelligence Group
Building Automation Industry Depends On Attracting New Talent People are our only asset. - Ken Sinclair, AutomatedBuildings.com
---


[Click Banner To Learn More]
[Home Page] [The Automator] [About] [Subscribe ] [Contact Us]