---

EMAIL INTERVIEW – Scott Cochrane and Geoff Hunter
Scott Cochrane is President and CEO of Cochrane Supply & Engineering, a leading industrial IoT and building controls supplier with locations throughout Michigan, Ohio, and Kentucky, as well as one in Canada. In 2000, Scott took over the business from his father, Donald Cochrane, Sr., who founded the company 50 years ago. He is proud to be an advisory council member for multiple industry manufacturers such as Honeywell, Johnson Controls, and Tridium, and to be named a 2016 IBcon Digital Impact Award Winner for his innovative contributions to the industry.



Geoff Hunter is President and Senior Principal of Palmer Conservation Consulting (PCC). Geoff was President and Founder of Coleman Systems, Inc. prior to his acquisition and merger with Palmer Conservation Consulting (an affiliate of Palmer Energy). Palmer Conservation Consulting is the Midwest leading catalyst in Energy Consulting and Master Systems Integration leveraging the power of IoT to create sustainable business value for its clients.

Palmer Conservation Consulting (PCC) "strategically" positions its partners for success by minimizing their energy costs while maximizing operational efficiencies. PCC supports governmental, educational, commercial and industrial customers throughout Ohio, Michigan, Indiana and Pennsylvania.
---
Master Systems Integrators (MSI)

They make sure all systems communicate properly, coordinate all project participants, collaborate with building owners to ensure systems information will be accessible and usable, and they develop software layers responsible for integration, aggregation, and communication of the building systems.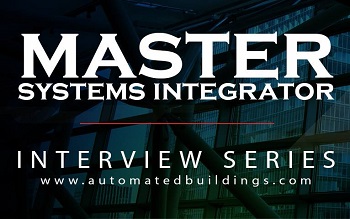 Scott Cochrane of Cochrane Supply & Engineering has the unique benefit of working with 300+ of the best systems integrators in the country. Cochrane recognizes the critical role they have within the building automation industry and is speaking with a different highly-regarded MSI each month with the goal of providing examples of industry trends, best business practices, and the growing value of an MSI. This month, he interviews Geoff Hunter of Palmer Conservation Consulting.

October Interview with Scott Cochrane & Brian Oswald, Managing Director for CBRE | ESI.
September Interview with Scott Cochrane & Joe Napieralski the Co-Founder and Director of Development of Smart Building Services LLC

August Interview with Scott Cochrane & Sidney H. Blomberg, Jr. the founder and President of K & S Ventures, Inc

July Interview with Scott Cochrane and Ken Sinclair
This month, he interviews Geoff Hunter, President and Senior Principal of Palmer Conservation Consulting (PCC)

Cochrane: How did you become an MSI?

Hunter: Actually, it was customer-driven. Many of our clients had multiple control and operating systems that struggled to share information and were costly to support. Our clients also had difficulty with the rising costs of maintaining and migrating proprietary systems. The fast pace of technology and the wave of IoT management requirements created a need for a way to connect the building stakeholders to their systems and provide them with useful and important information and control.

As a result, we offered an open systems approach to facilities management that was the basis of our early success. Many of the control vendors, engineers, and contractors resisted at the time (and some still do). Our background as an Industrial Systems Integrator, combined with over 150 years of HVAC design and energy management experience, provides us the knowledge and capability to differentiate ourselves to deliver independent third-party technical support. Our offerings have evolved with our clients' needs and now include analytics, pro-active diagnostics, and IT collaboration.

Cochrane: Can you explain what some of the characteristics are of a good MSI?

Hunter: A good MSI is driven by the needs of its Clients. A true MSI is not in the business to sell clients a temperature control system, mechanical or electrical equipment, mechanical maintenance services or the like. This creates a natural conflict of interest when evaluating opportunities and solutions. A good MSI provides its clients with "independent third-party knowledge and technical expertise" in the development and implementation of a common data platform/view for the many disparate systems that exist within their building, campus or enterprise. It should act as a technical resource and extension of the "Owner's Staff" in evaluating, designing, installing, coordinating, commissioning and leveraging building technology to ensure building systems are communicating properly, and the information is accessible and usable to meet the client's needs. A good MSI should have a strong qualified technical staff trained and certified in open platforms, operating platforms, and communication platforms, as well as mechanical and electrical system design and operation.

Cochrane: How do you sell Master Systems Integration services?

Hunter: We offer master systems integration services as a professional service. For proactive clients looking to maximize their investment dollars in new or existing facilities, it's critical to engage MSI services early in the construction or renovation process. Since technology/communication has become the spinal cord of today's facilities management, it's additionally critical to have the MSI on board early as a member of the owner's team to ensure operational and communication technology requirements are properly evaluated, coordinated and achieved.

Cochrane: How do your customers procure MSI services? What's the structure of the contract you're in?

Hunter: Most of our support is procured through professional services. Many clients submit RFQ's that allow for the inspection and evaluation of MSI firms. Some clients prefer T&M staffing contracts that meet their procurement requirements. We have also been successful in offering design-build contracts that focus on delivering specified results and meeting defined budgets.

Cochrane: As an MSI, what percent of your time is spent in the following categories? R&D, Consultations, Field Commissioning, and Software Programming.

Hunter:
R&D: 15% - Keeping up with technology changes can be a daunting task. Many of our clients lean on us to guide them with regards to technology trends and market needs. We see the good, bad and ugly and are paid to keep our clients from making costly mistakes. Our clients don't expect us to get paid on their dime to learn, so being on top of new technologies, software options and ever-changing building codes are of critical importance.

Consultation: 40% - Our responsibility is to provide our clients with "good" information so they can make "good" business decisions. It is in consultation where an MSI pays for itself. Establishing trust and technical credibility is a requirement.

Software Programming: 25% - Setup and startup is a vital role to any successful system architecture, but we also focus on user training. Our best clients are those who can easily access, control and operate their systems with minimal effort. (We call it the easy button.)

Field Commissioning: 20% - This area of service has grown tremendously in the existing building market. An MSI inspects and validates system functionality ensuring the owner received what he paid for. This also provides the opportunity to implement analytics and continuous commissioning, while developing cost-effective migration paths based on existing field conditions.

Cochrane: Describe a few challenges that you've encountered as an MSI.

Hunter: We have learned that "open" is a relative word! For most of the usual control and equipment manufacturers, open means one way… their way! Claiming to be "open" requires complete transparency and owner access to all tools and support without limitation. Our goal is to ensure the client has competition in procuring his products and services while ensuring flexibility for new technology offerings. There is a lot of confusion being offered these days with regards to what "open systems" actually means. Educating your client with accurate information is critical to gaining trust and respect as an actual owner advocate and solidifies the need and value of an MSI.

Cochrane: Do you envision Master Systems Integration being a part of your business in the future? If so, how?

Hunter: It has become the fabric of who we are. Being the independent technical experts who passionately help our clients navigate the rough waters of building systems, operational efficiency, building technology and the pace of IoT.


---


[Click Banner To Learn More]
[Home Page] [The Automator] [About] [Subscribe ] [Contact Us]