---
Articles - March 2019

Our authors provide insight into our rapidly evolving industry.
Please take the time to read their valuable articles.

Is 2019 the Year of Truth for the Built Environment? The truth is: 2019 is the year we get smarter about smart technology, smart equipment and smart solutions!! - Marc Petock, Chief Marketing & Communications Officer, Lynxspring, Inc.

Cutting Through the Hype Surrounding Artificial Intelligence in Smart Buildings The talk of AI might always sound like the distant future but the technology, in different forms, is already around us. - James McHale, Managing Director, Memoori

Messaging as a Platform: The State of Human to Machine Communications Conversational user experiences, in the form of chatbots and voice interfaces, are overtaking many of the traditional ways in which we interact with machines. - Toby Ruckert, CEO, UIB

Controls-Con 2019 Program Details Released! More than 20 industry thought-leaders join the speaker lineup at this Smart Building and Building Controls Conference to educate attendees on the latest strategies to make dumb buildings smart. - Kristina Reid, Marketing Manager, Cochrane Supply & Engineering

The OT vs. IT Debate A Temporary Construction Network helps Stanford University stay ahead of the curve. - Scott Cochrane, President, CEO, Cochrane Supply & Engineering

Artificial Intelligence for Smart Buildings Buildings may be constant structures, but the cascade of disruptions on automated building stakeholders is definitely evolving for the better to create efficiencies and new ways of living and managing the property. - Sudha Jamthe, CEO, IoTDisruptions

Integrating Automation, and Helping it Scale In facilities management Automation 2.0 is about harnessing AI and IoT to generate ongoing and real-time value creation in built assets, enabling far more viable and agile business models for FMs and CREs. - Prabhu Ramachandran, Founder and CEO, Facilio Inc.

Communities of Practice in Building Automation I expand on what I meant by 'Community of Practice.' - Therese Sullivan, Customer Marketing Leader, Tridium

Smoothing the Bumps In short, if we offer separation, a transmission protocol that the IT world understands and trusts, along with interconnectivity at site level via BACnet and in the cloud via APIs, we will ease the journey and some of the bumps in the road will look and feel a lot smoother and provide us all with a more enjoyable and fruitful journey that can only lead to our ultimate success in implementing innovative solutions. - Dave Lapsley, Econowise Group of Companies

The Most Affordable Energy Monitoring Manufacturers of building automation are faced with the challenges to best assist in monitoring the energy of buildings. - Michał Bugajski, Product Manager, Global Control 5 Sp. z. o.o.

Beyond BAS – The Anatomy of Disruption Our industry will be opened to a wide variety of new players who will bring with them faster innovation. Disruption aside, this will be a good thing. - Brad White, P.Eng, MASc. President, SES Consulting Inc.
The Anatomy of an Edge Controller The reality is, none of these devices contain any parts that are truly proprietary or unavailable to the public. Part 4 of 4 - The Software - Calvin Slater, Climatic

Project Haystack Organization Launches New Marketing Website "This new website demonstrates the growing acceptance of the value of the Haystack methodology," - Robin Bestel, Marketing Manager, Project Haystack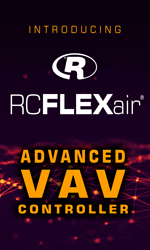 Columns - March 2019
Automated Marketing = Possible Danger Customers have more control over the messages that they receive than ever before. I prefer the rule of more is not always better. Targeted and creative works every time. - Manny Mandrusiak CD. Vocational Rehabilitation Consultant, Vancouver Island Works Project
Automated Intelligence With Autonomous Interactions Our industry is on a journey towards Automated Intelligence and that, for now, is the AI we are talking about, along with its interlocking AI, Autonomous Interaction. - Ken Sinclair, AutomatedBuildings
Disrupting Disruption We need to be the people Doing the Disruption, not the ones just watching and waiting to be Disrupted. - Ken Sinclair, AutomatedBuildings

The Dawn of Disruption Just back from a kaleidoscope of future peeks into the Dawn of Disruption and its' Emotions @AHREXPO 2019 Atlanta. - Ken Sinclair, AutomatedBuildings



---


[Click Banner To Learn More]
[Home Page] [The Automator] [About] [Subscribe ] [Contact Us]