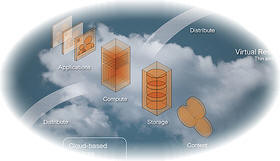 Automated Continuous Commissioning
David Wolins, Scientific Conservation, Inc. (SCI)
Drilling for Dollars
Jim Sinopoli, PE, Smart Buildings LLC
Track LEED v3 Credits in Project Management Software
Houston Neal, Software Advice
How Powerful Are Your Graphics?
Sarah Erdman, Quality Automation Graphics
After The Keynote?
Robert Beverly, Engineered Systems

Embedded Flexible Module Solutions
Daniel A. Drolet, Sr., PCN Technology, Inc.
LONMARK® International/ LONMARK® Americas
Heather Deal, LONMARK Americas
My Clouded Thinking Clears
Ken Sinclair, AutomatedBuildings.com
Free Services
Seeking a New Career? Employment Ads.
Now Available
Dealers Wanted
Equipment for Sale
Submit Ads
August Interviews
Building Automation and the Cloud
Rick Huijbregts, Cisco
IntelligentBuildings® and BusinessWeek
Shircliff/Murchison, IntelligentBuildings®
A Clean Interface to all Information
Roy Kok, Kepware
Integrated Energy Storage System
John McGee, Ice Energy
The Green Building Power Forum '10
Jeff Shepard, Darnell Group
Address Operating Inefficiencies
David Wolins, Scientific Conservation, Inc.
August Columns
Distributed Energy Resources and Storage
Toby Considine
High Performance Buildings - Water Side
Paul Ehrlich & Ira Goldschmidt
Airflow Monitoring
Steven R. Calabrese
Opening the OPC Mailbag
Manny Mandrusiak
August Reviews
Cisco Network Building Mediator
Internet of Interactions
Future with Flexible Paper OLED
Integrating Lighting and Building Control

July Favourites
My Takeaways from ConnectivityWeek
Cisco's Mediator
Intelligent Buildings talk to the Smart Grid
BAS Graphics
Ember's Next Generation ZigBee SoCs
Utility Demand Response Programs
Social Networking & M2M
Short Fuse and the Road Map