---
AutomatedBuildings.com Preview of AHRExpo

Chicago, January 22-23, 2018


Ken Sinclair

Founder, Owner, Publisher AutomatedBuildings.com

Search the Show

My Show Planner combines planning and logistics into one easy-to-use tool.

More than 60 free seminars
https://ahrexpo.com/education-overview/
Our Sessions
The Future of Building Automation - Data at the Open Intelligent Edge
Mon. January 22| 9:30 AM - 10:30 AM | S103A
Building Automation Systems 101: The Primer You Always Wanted
Mon. January 22| 11:00 AM - 12:00 PM | S103A
Growing the Open Intelligent Edge
Mon. January 22| 1:30 PM - 2:30 PM | S103A
Are Master System Integrators Becoming the New Building Data Architects?
Tue. January 23| 9:30 AM - 10:30 AM | S103A
Building Automation 101: Interoperability, Integration, and IoT
Tue. January 23| 11:00 AM - 12:00 PM | S103A
How Will We Create Value From Our New Found Edge Data and Bring It Back to the Hive to Discover New Ways of Providing Comfort, Health, and Satisfaction in Our Buildings?
Tue. January 23| 1:30 PM - 2:30 PM | S103A
Our Education Sessions AHR Expo 2018
Chicago, January 22-23, 2018
Our 19th year of Free Education Sessions
Overall theme of all sessions; The Future of Building Automation
Required Reading for AHR Expo, Chicago
For our Education Sessions and the Connection Community Collaboratory

Speakers for education sessions:

A panel discussion:

Andy McMillan Strategy Consultant & President BACnet International Contributing Editor
Troy Davis, Sales Director EnOcean Inc. Interview

John Petze Project Haystack, Executive Director Principal, SkyFoundry
Trevor Palmer Vice President, Controls Product Management, Acuity Brands Lighting, Inc.
Marc Petock, Chief Communications Officer & Vice President, Marketing Lynxspring. Project Haystack, Secretary. Contributing Editor
A New Education Session Introduction to Building Automation Systems Phil Zito, Building Automation Monthly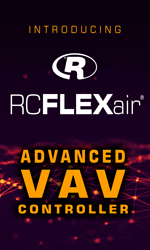 New Products Previews / Releases

Open Software – and now Open Hardware While at AHR Expo 2018, we encourage attendees to stop by our booth (4118) to see how open hardware is going to influence our industry. - George Thomas, Contemporary Controls
A Conversation with Lynxspring's Marc Petock on AHR Expo 2018 2018 will be exciting for sure. After years of being over-shadowed, building technology is in the spotlight. - Marc Petock, Chief Communications Officer, Vice President, Marketing, Lynxspring & Connexx Energy
CABA at AHR 2018 CABA has launched a new Outreach Program designed to share building technology market research and analysis at industry events throughout 2018. - Ron Zimmer, President & CEO, Continental Automated Buildings Association (CABA)

BASgatewayLX Updates and a Preview of Booth 4118 at AHR 2018 BASgatewayLX Now Maps Up to 100 Modbus Devices to BACnet

2018 AHR Expo to Host Show's Largest-ever Education Program Opportunities include free seminars, professional certifications and continuing education courses

See the Latest HVACR Innovations, Products and Technologies at the Highly-Anticipated 2018 AHR Expo in Chicago Showcase features hundreds of products and technologies for contractors, engineers, facility managers, OEMs and other HVACR industry professionals.

Our Advertisers at AHR 2018

BACnet International - Booth 3852
Belimo Americas - Booth 4136
Contemporary Controls - Booth 4118
Control Solutions - Booth 4114
CUBE USA Booth 4052
Delta Controls - Booth 3923
Distech Controls - Booth 3900
Lynxspring, Inc - Booth 4149
Reliable Controls - Booth 3809

---


[Click Banner To Learn More]
[Home Page] [The Automator] [About] [Subscribe ] [Contact Us]