---
Articles - November 2010
Our authors provide insight into our rapidly evolving industry.
Please take the time to read their valuable articles.


















Green Buildings and EZ Electricity

Enterprising minds are creating better opportunities for buildings to interact with the Smart Grid.

John J. "Jack" Mc Gowan, CEM Energy Control Inc.



Wireless Meters

The Real Hotspot

Jim Sinopoli, PE, RCCD, LEED AP & Managing Principal Smart Buildings LLC

Connecting Building Automation to Everything

In an ideal world, we will be able to be vendor and protocol independent. Everything will talk to everything.

Nino Kurtalj, President, Elma Kurtalj Ltd

The Protocol Implementation Conformance Statement (PIC) & BACnet Interoperability Building Blocks

(BIBB) Nirosha Munasinghe, Product Development Manager, Open General

BACnet in Public Administration Buildings

Lowering Energy Consumption While Maximizing Comfort

Salvatore Cataldi, ESAC




GridWeek

A Summary of Discussions Shaping the BAS Industry

Anto Budiardjo, Clasma Events



Collaboration Fuels Smart Grid Progress Major Industry Players Get Behind ADR Alliance

Anto Budiardjo, Clasma Events





Social Networking

Can help you find a job in the Building Automation Industry

Teny E. Varghese,

Building Automation Jobs




Glenborough Takes Energy Efficiency Strategy to the Next Level with the Niagara Framework It's not always about the 'money' one commits into an operation; it's how you bring other important stakeholders, such as your tenants and vendors, into energy conservation. Carlos Santamaria, LEED AP Glenborough's Director of Engineering

Columns - November 2010

Control System Upgrades

Determine your best path to a total system overhaul

Steven R. Calabrese, Control Engineering Corp.



OPC UA Adoption Update

No one is certain where technology trends in BAS will take us in 2011 but one thing is certain: OPC UA will be the protocol of choice in taking data from the field and making it useful information in the cloud.

Manny Mandrusiak, Vice President of OPC Marketing, OPC Foundation

Energy Effectiveness …

Getting Beyond Energy Efficiency

Andy McMillan, President and GM Philips Teletrol



Internal Sharing of Energy Information to Support Smart Grids

Every building, and every group of buildings, must become a microgrid. A microgrid is responsible for managing its energy use, generation, storage, and market operations.

Toby Considine, T9





Networked Building Automation System (BAS)

It is amazing how little we know about what really goes on in most buildings.

Paul Ehrlich, Ira Goldschmidt & Angela Lewis Building Intelligence Group




Articles - October 2010



Are There Too Many Choices For Wireless Building Systems?

Wireless technologies such as ZigBee, EnOcean, Z-Wave, Wi-Fi, RFID, Insteon, Bluetooth, etc. are a snapshot

Jim Sinopoli, PE, RCCD, LEED AP & Managing Principal Smart Buildings LLC

Protocol Positioning from Field to Cloud

Everyone will be forced to open up all network layers, and we will achieve at the speed of light full-scale interoperability and manageability. The enterprises will become as a node in the cloud creating an absolutely new perception of the organization and society in whole.

Nino Kurtalj, President, Elma Kurtalj Ltd

Integrating EnOcean and BACnet

Enabling Best of Breed Building Automation Solutions

The S4 Group, Inc

.

The Embedded BACnet IP Server

In today's network world, the controller is the server.

David Lamarche, Director of Communications, CAN2GO™

Energy Information Management

Beyond Savings Projections to Proof

Tim Kensok, Vice President Market Development, AirAdvice

Putting ENERGY STAR Certification Within Reach of Commercial Buildings

Commercial companies have realized that the ENERGY STAR label is preferred by their customers because it indicates a lower cost of operation.

Brian Dawson, Chairman and CEO of Calico Energy

Smart Demand Control Ventilation

Intelligent Ventilation Measurement, Optimization and New Thinking for Today's Green Buildings

Daniel Diehl, Vice President, Sales and Marketing, Aircuity



Getting Grid Connected

Drive Increased Energy Savings and Earnings with Contextual Electricity Information, Dashboards and Integrated Demand Response

Rich Quattrini, VP Marketing and Product Management, EnergyConnect Inc.

Landmark Multi-Use Building Sets Standards for Sustainability

Wireless technology "greens" 1980s building

Harry Sim, CEO Cypress Envirosystems



Back to School for Energy Efficiency Lessons Schools are turning out one textbook case after another of energy efficient buildings. Denis Du Bois, Editor, Energy Priorities Magazine

Building Automation Moves Up Up in the clouds and ever-increasing connectivity Control Engineering Asia



Columns - October 2010



Closing the Feedback Loop

What type of feedback is needed by each party? Answering this question is a bit more complex. Angela Lewis, Building Intelligence Group



Load Shaping for Net Zero Buildings

Load shaping prioritizes energy use by prioritizing systems, matching demand to supply within the microgri

d

.

Toby Considine, T9



Rapid software development leads to future facing success

New OPC Foundation OPC UA .NET Developers' Course provides hand-on UA development

Manny Mandrusiak, Vice President of OPC Marketing, OPC Foundation

Hydronic Zone Controls 101

Control theory as explained through real-life experience

Steven R. Calabrese,

Control Engineering Corp.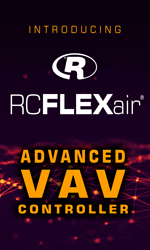 Past Favorites


October:


David Lamarche, Director of Communications, CAN2GO™

The Embedded BACnet IP Server


Jim Sinopoli, PE, LEED AP, RCDD Managing Principal, Smart Buildings LLC

Too Many Choices For Wireless Building Systems?


September:


Nino Kurtalj, President, Elma Kurtalj Ltd

From the Silo to Open Collaborative Facility Internetworks


Sarah Erdman, Marketing Director, QA Graphics

Seeing is Believing


Ken Sinclair Editor/Owner, www.AutomatedBuildings.com

Does Owning the Meters Make You Smarter?
August:


Jim Sinopoli, PE, LEED AP, RCDD Managing Principal, Smart Buildings LLC

A Window into Shading and Electrically Switchable Glass


Peter Sharer, Founder, Agilewaves, Inc

Monitoring-based Commissioning for Proactive Energy Management


July:




Sarah Erdman, Marketing Director, QA Graphics

Energy Dashboards and Energy EDUCATION Dashboard


Michael Colicchio, Canadian Regional Development, Viconics Electronics Inc.

Wireless Communicating Controls


June:




Harry Sim, CEO, Cypress Envirosystems

Kaiser Permanente Qualifies Old Building for Energy Incentives


Ken Sinclair AutomatedBuildings.com

Takeaways from ConnectivityWeek 2010


Nirosha Munasinghe, Open General

The Future of Cloud Connectivity for BAS
May:


Ken Sinclair Editor/Owner, www.AutomatedBuildings.com

Preview of May 24-27 ConnectivityWeek 2010 Santa Clara


Michael R. Lavelle P.E., Lavelle Energy LLC & Kimon Onuma, FAIA, ONUMA, Inc.

Virtual Building Energy Management


Nirosha Munasinghe, Open General

What is a Web Enabled Building Management System? & Data Integration Levels
April:


Dave Krinkel, Founder EnergyAI

What Secrets Lurk In the 98% of Energy Data that's Never Looked At?
March:


Ken Sinclair Editor/Owner

,

www.AutomatedBuildings.com

The Next Big Things
February:


Andy Stadheim CEO, Barix Technology U.S.

Building Automation Considerations


Ken Sinclair Editor/Owner, www.AutomatedBuildings.com

Twenty Ten to be a BAD-ASS Year
January:


Jim Sinopoli, PE, LEED AP, RCDD Managing Principal, Smart Buildings LLC

Predictions for Smart Buildings in 2010


Rawlson O'Neil King, Communications Director, CABA

Research Viewpoints


Robert Eckery, Marcom Manager, EnOcean, Inc.

Energy Harvesting, Wireless and Next Generation Building Energy Management
December:


Jim Sinopoli, PE, LEED AP, RCDD Managing Principal, Smart Buildings LLC

How Buildings Will Communicate With The Smart Grid


Harry Sim, CEO, Cypress Envirosystems

Retrofitting Existing Commercial Buildings for the Smart Grid
November:


Andrey A. Golovin, Executive Director of associations BIG-RU (BACnet Interest Group Russia) and KONNEX Russia, Editor in Chief of the magazine "Building Automation"

What is "Smart City"?


Gina Elliott, MBA Project Director, Smart Buildings LLC

Energy Reporting


Daryl Cowie, Business Development Manager, Wescon Technologies

The Business Case for Submetering - Part 1-3