---
Articles - April 2010
Our authors provide insight into our rapidly evolving industry.
Please take the time to read their valuable articles.















ConnectivityWeek Laying Out the New Energy Management The BAS industry is at the nexus of how we can use energy smartly in the future, and with this, comes enormous opportunity for the BAS industry. Anto Budiardjo, President & CEO, Clasma Events Inc.
Knowledge - The Essential Foundation for Intelligent Buildings The convergence of Smart Grid technologies, cloud computing and Internet-enabled applications, plus economic, market, regulatory, and environmental drivers offer unprecedented business opportunities for innovators and established companies to deliver energy management solutions for new and existing building stock. Christine Hertzog, Managing Director, Smart Grid Library
FDD Going Mainstream? Whose Fault Is It? What has emerged over the last several years, are software tools based on fault detection and diagnostics (FDD) that have taken actionable information and system intelligence to a new level. Jim Sinopoli, PE, RCDD, LEED AP Managing Principal, Smart Buildings LLC
BAS-IT Convergence: Now and Into the Cloud Greg Turner, Honeywell Building Solutions
Cutting Costs and Carbon With Wireless Controls Wireless can deliver – and generally does deliver a much lower overall installation cost. Alan Braybrook, Sales and Marketing Director, Sontay
A Wireless Solution For Energy Control In Existing Buildings Costs Could Drop 30 to 70 Percent. Jack Bolick, President and Chief Executive Officer, Adura Technologies
What Secrets Lurk In the 98% of Energy Data that's Never Looked At? Are your meters trying to tell you something? Dave Krinkel, Founder EnergyAI
SmartGrid – What it is… Technology to watch… Roy Kok, VP Sales and Marketing, Kepware Technologies
"Change or Die" Developing a Successful Future for Facility Automation and Integration – Part 1. Richard K. Warner, PE, LEED AP, President/CEO & William L. Parrish II, BSME (Rose-Hulman), General Manager, Graphic Services Division, O&M Engineering, Inc.
An Earth Day Reminder: "Go Efficient" Nathan Rothman, Founder and CEO, Optimum Energy
The Tree of Knowledge Climb it to improve your view, or it might fall on you. Robert Beverly, Editor, Engineered Systems Magazine
Just how safe are those 'standards-based' systems in your enterprise? "Are all "standards" created equally?" What does it mean when someone buys such systems under the illusion that they're making the right investment to enable their systems to run efficiently (we hope) and reliably? Nathan Pocock, Director of Compliance, OPC Foundation
Keeping Customer Service Visible Customer service is as vital and germane to our business now as it was in the days of automation overlays. Thomas Hallett
Columns - April 2010
Why Do Open Protocol Myths Still Abound? We see plenty of opportunities for the industry to educate itself sufficiently to overcome these myths. Paul Ehrlich & Ira Goldschmidt, Building Intelligence Group
Controls Contracting Operations - Installation Getting from point A to point B, successfully! Part 2/3 Steven R. Calabrese, Control Engineering Corp.
UA…Xi…OPC... Can I buy a vowel please Pat? Manny Mandrusiak, Vice President of OPC Marketing, OPC Foundation
Microgrids and Smart Energy Microgrids, whether virtual or real, are an important organizing concept of smart energy. Toby Considine, T9
Putting the 'M' in EMS Energy management from a management perspective Andy McMillan, President and CEO, Teletrol Systems Inc.
The next big things: how building automation will change complex installations and commissioning Ken Sinclair AutomatedBuildings.com
Articles - March 2010
The Next Big Things This dynamic duo will eliminate complex installations, provide; self set up, connection, and commissioning while self populating the needed information for web deployment. Ken Sinclair Editor/Owner, AutomatedBuildings.com
Energy Users, The Focus of BuilConn at ConnectivityWeek Anto Budiardjo, President & CEO, Clasma Events Inc.
A Wired and Wireless Controller For Better ROI BAS still require the use of several wired devices, which means that wired and wireless technologies need to be integrated together within a single system to enable centralized control. David Lamarche Director of Communication, SCL Elements Inc.
Selecting an Integrated Building Automation System A solution capable of analyzing the multiple sources of data required to run an entire facility, as well as a system capable of providing collaboration between visualization, alarm management, scheduling, reporting and analysis functions. Tim Donaldson, Director of Marketing ICONICS
The How and Why of Operations Centers in Smart Buildings The objective of an operations center is to enable and enhance the capabilities of the staff and overall operations. Jim Sinopoli, PE, RCDD, LEED AP Managing Principal, Smart Buildings LLC
Tunneling and Secure Data Transfer via OPC UA With over 140 protocols, client interfaces and server interfaces is the ideal solution to bridge your various automation solutions for M2M (Machine to Machine) or P2E (Plant to Enterprise) applications. Kepware Technologies
Advanced Lighting Control Can Reduce Operating Costs and Improve Worker Satisfaction Lighting is a business asset that should be managed as a critical component of both the building and the organization that occupies it. Terry Mocherniak, Chief Operating Officer, Encelium Technologies and Howard Berger, Program Director, RealComm
A Gateway to Affordable Dimming Reliable dimmable fixtures allow buildings to utilize green lighting strategies such as daylight harvesting, motion sensors, occupancy sensors, vacancy sensors, time delay switches and other lighting systems which adjust light levels according to certain prerequisites. Garth Kullman, Director of Product Development, PureSpectrum
Wireless Integration of Zonal Lighting Management The lighting energy management retrofit provided instant savings and additional tax incentives for the Ohio-based School. EnOcean Alliance, Inc & DimOnOff
Bridging the IT- Facilities Gap Energy Management in the Data Center Joe Polastre, Co-founder, Chief Technology Officer, Sentilla
Automation and the Smart Grid Energy Management Today Courtesy of Opto 22
Young Energy Network Plugging in at ConnectivityWeek'10 Phil Baltazar, I Will Energy
2010 to be the year of the smart building app Because of the evolving reach and complexities of building automation, these solutions need to be several services, not one all-encompassing service. Ken Sinclair Editor/Owner, www.AutomatedBuildings.com
Columns - March 2010
Controls Contracting - Operations: Preconstruction What it takes to get the job…started! Part 1/3 Steven R. Calabrese, Control Engineering Corp.
Fundamental Changes In June, Engineered Systems and Building Intelligence Group will be conducting the first Sustainable Solutions Conference. Paul Ehrlich & Ira Goldschmidt, Building Intelligence Group
Pocket tech and a Car wash help build the case for OPC UA For the Building Automation industry the future is in the intelligent device, and embedding the connectivity needed to securely expose that data to the systems and devices that we need to consume and access it. Manny Mandrusiak, Vice President of OPC Marketing, OPC Foundation
Buildings must get smarter because Smart Grids will be worse The grid's reduced safety margins make even moderate adoption of intermittent energy sources risky. By every measure, the quality of the North American grid will get worse. That's the plan. Toby Considine, T9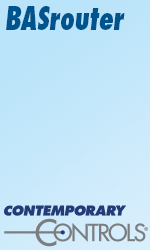 Past Favorites

March:
Ken Sinclair Editor/Owner, www.AutomatedBuildings.com The Next Big Things
February:
Andy Stadheim CEO, Barix Technology U.S. Building Automation Considerations
Ken Sinclair Editor/Owner, www.AutomatedBuildings.com Twenty Ten to be a BAD-ASS Year
January:
Jim Sinopoli, PE, LEED AP, RCDD Managing Principal, Smart Buildings LLC Predictions for Smart Buildings in 2010
Rawlson O'Neil King, Communications Director, CABA Research Viewpoints
Robert Eckery, Marcom Manager, EnOcean, Inc. Energy Harvesting, Wireless and Next Generation Building Energy Management
December:
Jim Sinopoli, PE, LEED AP, RCDD Managing Principal, Smart Buildings LLC How Buildings Will Communicate With The Smart Grid
Harry Sim, CEO, Cypress Envirosystems Retrofitting Existing Commercial Buildings for the Smart Grid
November:
Andrey A. Golovin, Executive Director of associations BIG-RU (BACnet Interest Group Russia) and KONNEX Russia, Editor in Chief of the magazine "Building Automation" What is "Smart City"?
Gina Elliott, MBA Project Director, Smart Buildings LLC Energy Reporting
Daryl Cowie, Business Development Manager, Wescon Technologies The Business Case for Submetering - Part 1-3
October:
Kevin Braley, Communications Specialist, Orion Energy Systems Ebb and Flow of Lighting Needs Require Flexible Controls
David Wolins, CEO Scientific Conservation The Emergence of Proactive Building Management Automation
Rick Huijbregts, Cisco Canada The Real Value of Building Information, Integration and Transformation
Marc Petock, Vice President, Global Marketing & Communications, Tridium, Inc. The Niagara Framework® and Energy
September:
Sarah Erdman, Marketing Director, Quality Automation Graphics Energy Dashboards Inform and Educate
August:
David Wolins, CEO, Scientific Conservation, Inc. (SCI) Automated Continuous Commissioning
Jim Sinopoli, PE, LEED AP, RCDD Managing Principal, Smart Buildings LLC Drilling for Dollars
July:
Ken Sinclair Editor/Owner www.AutomatedBuildings.com My Takeaways from ConnectivityWeek
Michael Bordenaro, BIM Education Co-op Cisco's Mediator
June:
Alper Uzmezler, BAS Services & Graphics, LLC. Future of Building Automation with IP Version 6 & cloud networking
May:
Robert Smith, PhD, California State University Professor Emeritus, and Michael Bordenaro, Co-founders, BIM Education Co-op BIMSTORM® Processes Guide Smart Grid Planning
April:
Bill Swan, Buildings Standards Initiatives Leader, Alerton LEED 2009 and Building Automation Systems

---


[Click Banner To Learn More]
[Home Page] [The Automator] [About] [Subscribe ] [Contact Us]